CDD Vault Visualization provides an R-group decomposition plot for Molecules loaded into Visualization. Whether you're sending data from your private, secure CDD Vault or importing a data file into the Visualization tool, you are able analyze core structures and their various R-group attachments.
Once your data is loaded into the CDD Vault Visualization tool and structures are analyzed, a "plot type" for R-group decomposition is available. After clicking the R plot users can choose one of two options:
Select a core from one of the SuperSAR fragments
Draw a "core" and R-group attachment points in the structure editor
A scatter plot is then generated with the R1 and R2 substituents plotted on the X and Y axes. Three columns for the core, R1, and R2 structures are added to the report table underneath.
Creating an R-group decomposition plot
Select the R-group decomposition plot in the toolbar at the top of the visualization session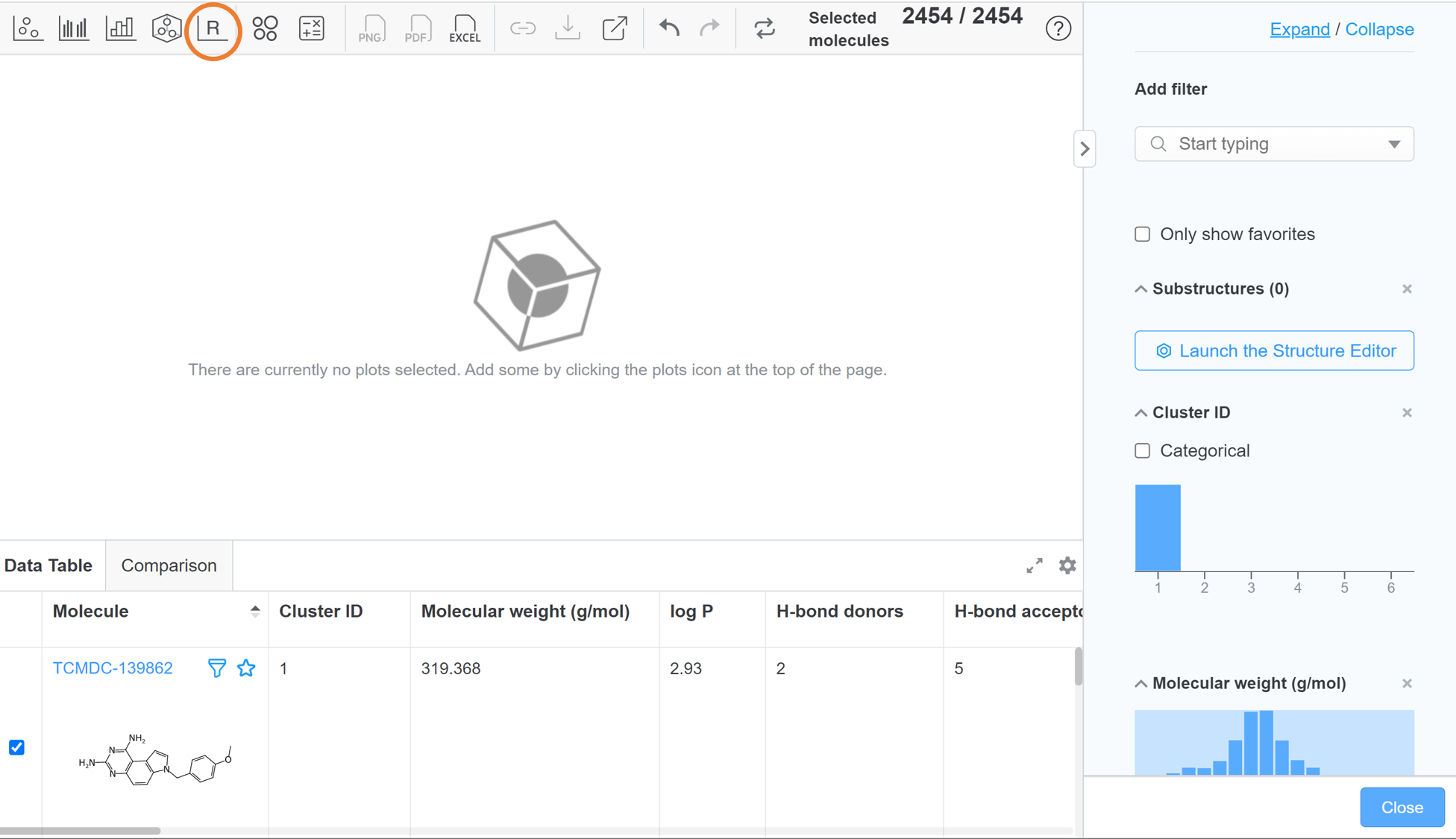 Select a core from the SuperSAR fragments
SuperSAR will suggest core groups based on the structures uploaded to the visualization session
You can use your mouse to scroll through the suggestions and choose one as the core structure
Launching the structure editor to draw a core
If you cannot find the core you are looking for in the suggestions you can draw your own
Click "Launch the Structure editor"
Draw the core structure
Use the "R1" button in the toolbar to add the R1 and R2 groups to the structure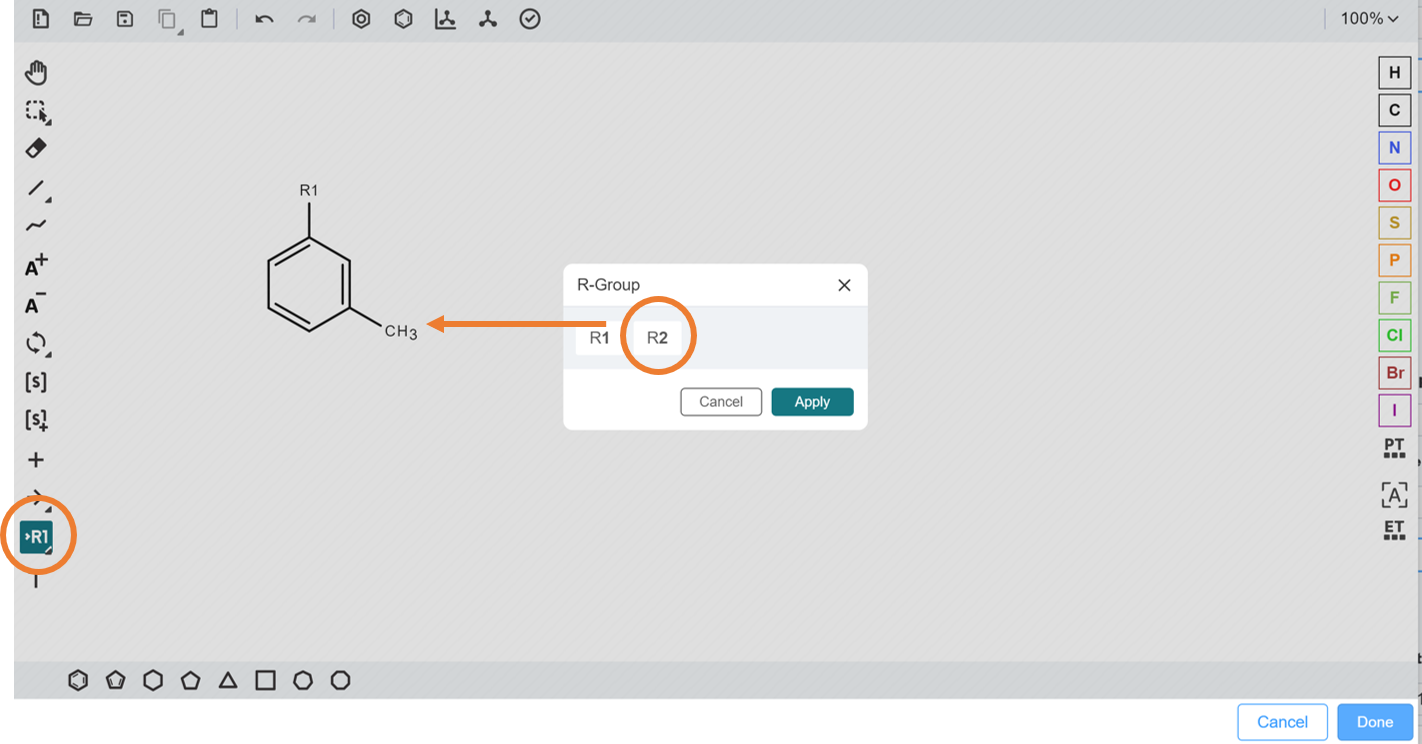 Interacting with the plot
Use your mouse or track pad to zoom in and out of the plot
As you zoom in, the R-group structures will start to display on the axes
Hovering your mouse over a point will show the corresponding structure
Clicking on a point will pull up the molecule and all the corresponding data from the table
"Shift"+clicking on a point will paste the structure into the plot area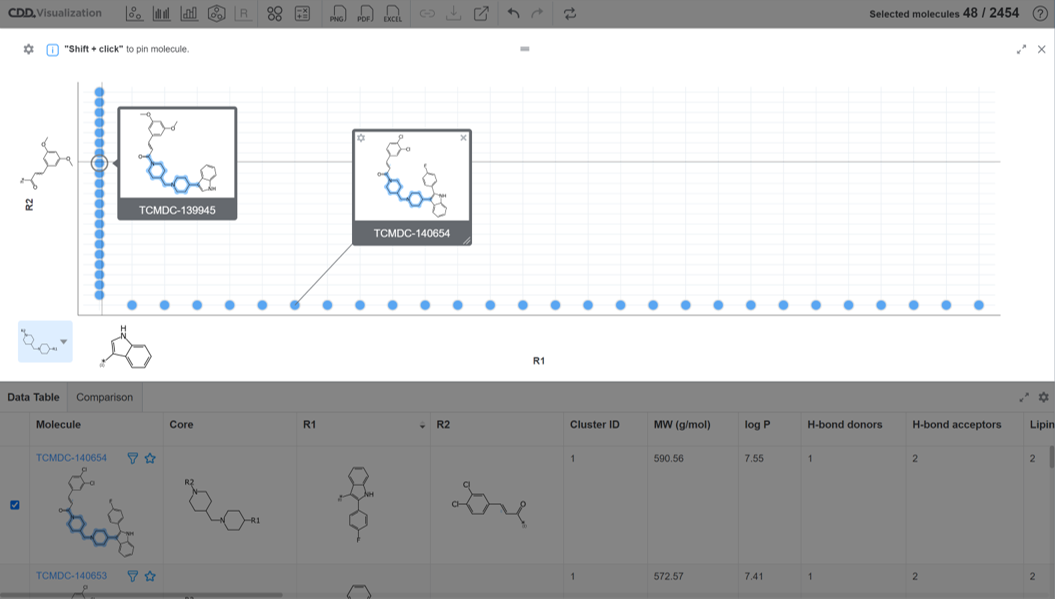 Plot Settings
Any settings applied to the plot will be viewable in a collapsible legend in the plot area. Select the parameter to map a column of data to on the right-hand side of the screen.
Change the color of plotted points
Change the shape of plotted points
Change the size of plotted points
Sort the R1 or R2 structures on the axes by a specific value

Structure columns in the report table
Three columns are added to the data table for the Core, R1, and R2 structures
Click on the column header to sort the structures by their structural similarity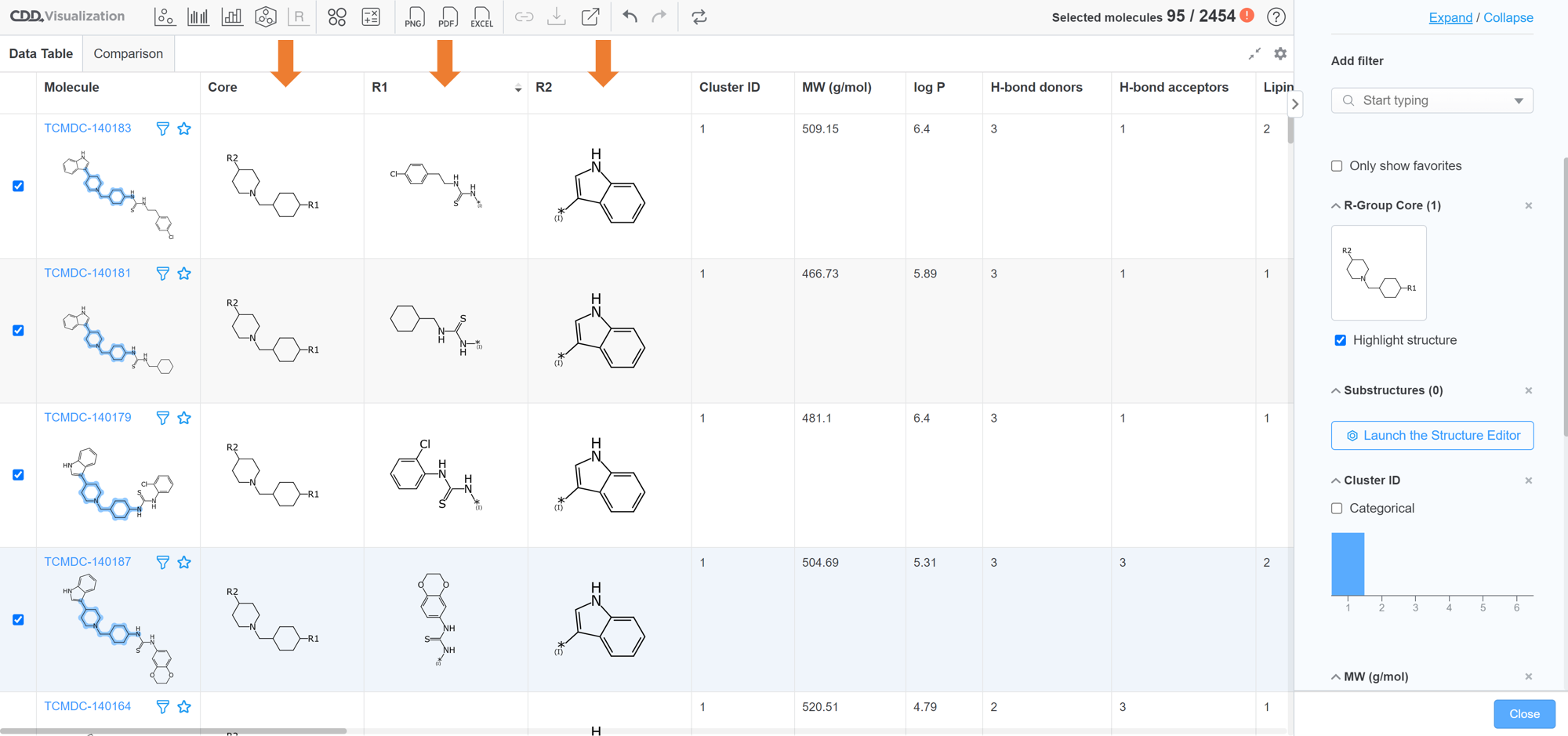 Helpful hint: Once you've created an R-group Decomposition plot and selected your desired core, the R1 and R2 groups can be assigned to the x-axis of a Scatter plot.