You have registered a batch of compound and realize that it was a (different) salt than registered. So how to go about to edit the molecule batch to append or change salt (and/or solvent) information?
While in the past it wasn't possible to edit the salt/solvent information of a compound batch, this is nowadays very easily done:
For single batch editing go to:
Molecule > [molecule to be changed] > Batches , click the "Edit" link, then fill in the salt. Type-ahead will help you with a selection depending on your input: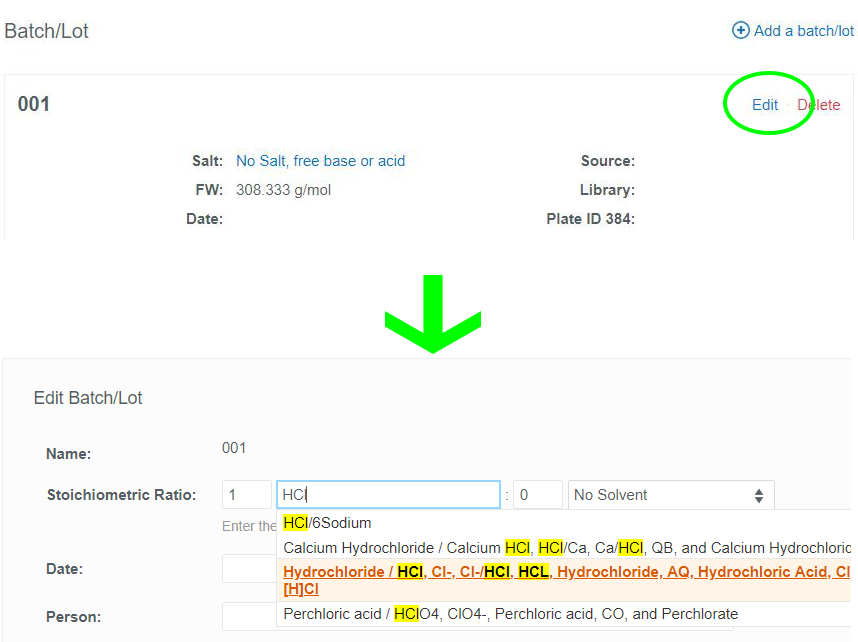 For bulk changes of salt information
This can be done via the Import Wizard. Have a csv file (or sdf file) at hand containing your registration ID, batch number and a salt column/field (or solvent).
After uploading the file, select in the top section the radio-button for "Update Existing Molecules", then go through the mapping process.
After submitting and pre-processing, you will receive "Noteworthy Events" - "Existing Batch Update" and "Suspicious Events" - "Batch Salt Modification": you can override that (select "Accept"), then finally Commit.