Get notified automatically when new results are added to CDD. These alerts are fully configurable, so you have control over the types of events that trigger e-mail notification, their frequency, and the amount of detail included in the e-mail. Each user can define their own unique set of alerts; by default all users are automatically set to receive weekly summary alerts for all of the projects they participate in.
To change or opt out of alerts, just go to your Settings page and click on Alerts in the side-bar on the left. You will see a link to this page in the first alert e-mail you receive.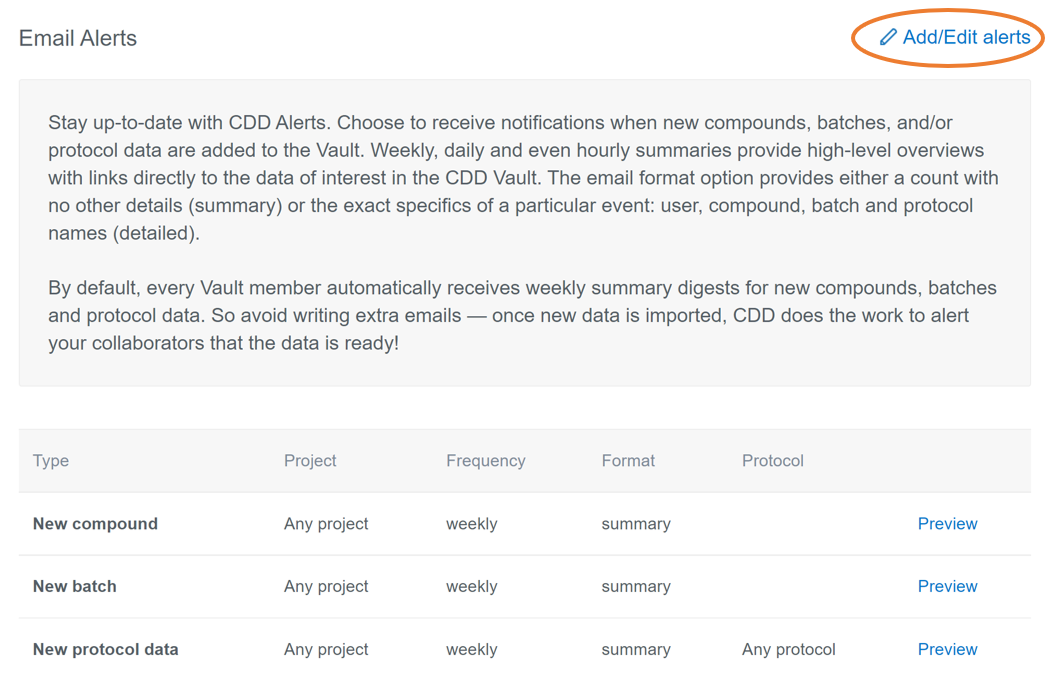 Type
Get notified when new molecules, batches and protocol data are added (labeled as "slurp" in the e-mail). Set up a new alert for each type of data. Also, let us know what else you'd like to be notified about!
Project
You can choose to be notified about data from all projects, or from a specific project. Set up a new alert for each project that you care about. For example, you may have one alert for new molecules added to a Chemistry CRO project, and protocol data added to a Biology CRO project.
Frequency
Get notified hourly, daily or weekly. You will receive only one e-mail for all of the alerts with a given frequency. For example, your default weekly e-mail will include any new molecules, batches, and protocols in all projects.
Format
E-mail notifications may be in summary or detailed format, depending on the amount of detail you consider secure to send by e-mail.
Summary provides a count with no other details. If you are concerned about protocol or molecule names being revealed choose the summary format, and follow the "View details" link in the e-mail to see a complete activity log.
Details provides exact specifics of a particular event: user, molecule, batch and protocol names.
Alert Settings
By default, all vaults are set to send "summary only" e-mails. Vault Administrators can disable alerts altogether, or change permitted formats on the Settings page→ Vault→ General in the side-bar on the left: