An up-to-date Salt Table is available in your CDD Vault, by clicking on the batch salt field of any registered compound. You can also download the up-to-date table at the same location. If need a salt or solvent that is not in this list, please contact support to request it.

For complete molecule registration guidelines, please look here and here.

Salt table (log-in required)
Salt Table
An up-to-date Salt Table is available in your CDD Vault, by clicking on the batch salt field of any registered compound. Or click here and log-in to your CDD account, to go directly to the salt table. You can also download the up-to-date table from the CDD salt table.

Every salt in the table contains the following fields:
Name
The standard salt name that is displayed in the batch information.
Code
Salt code prefix that is used in the Batch Name in some Vaults. Please contact CDD Support if you would like the Salt code in the Batch Name in your Vault.
Salt vendor strings

Synonyms that will be accepted during compound registration,

when the salt and stoichiometry are imported as a separate "Salt" batch field.

Structure

SMILES structure of the salt that will be used for automated salt stripping from

structure. Please note that most salts will be stored in neutralized form.
Salt Code in the Batch Name
Users have the option to have the Salt Code prefix in the Batch Name enabled in their CDD Vault. This can either be enabled when a new Vault is created or turned on in your current Vault by contacting CDD Support.
If enabled, the Batch Name will contain the Salt Code as a prefix followed by a number; the numbering is sequentially assigned for each salt code starting from 1. In the example below AA-001, AQ-001, AA-002.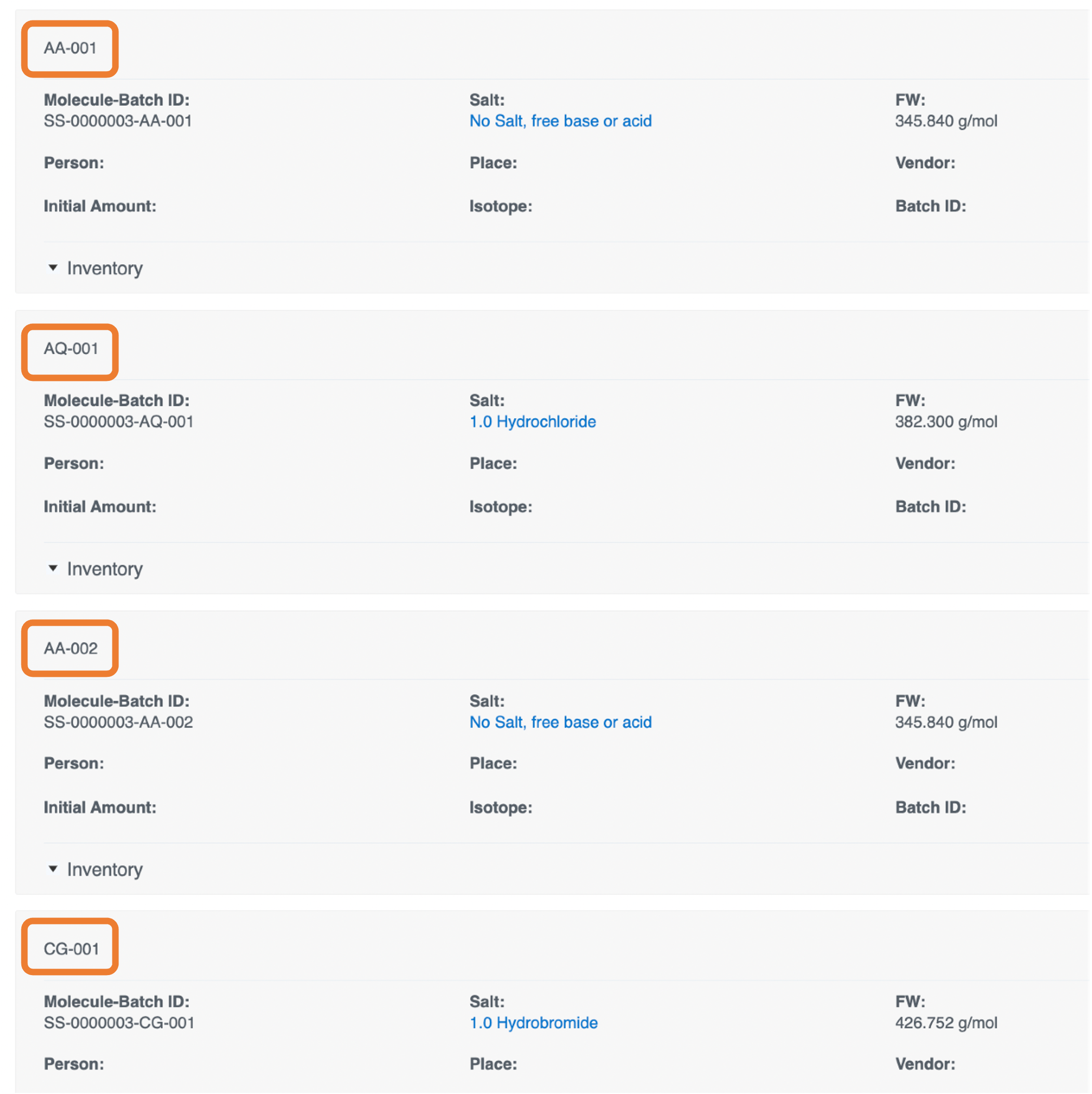 Solvents of crystallization
An up-to-date list of solvents is available in your CDD Vault, when you edit the solvent field of any batch. If a solvent that you need is not in this list, please contact support to request it to be added. You can find a partial list here - a full list can be seen in the batch edit mode of a compound (just like for the salts, please see below).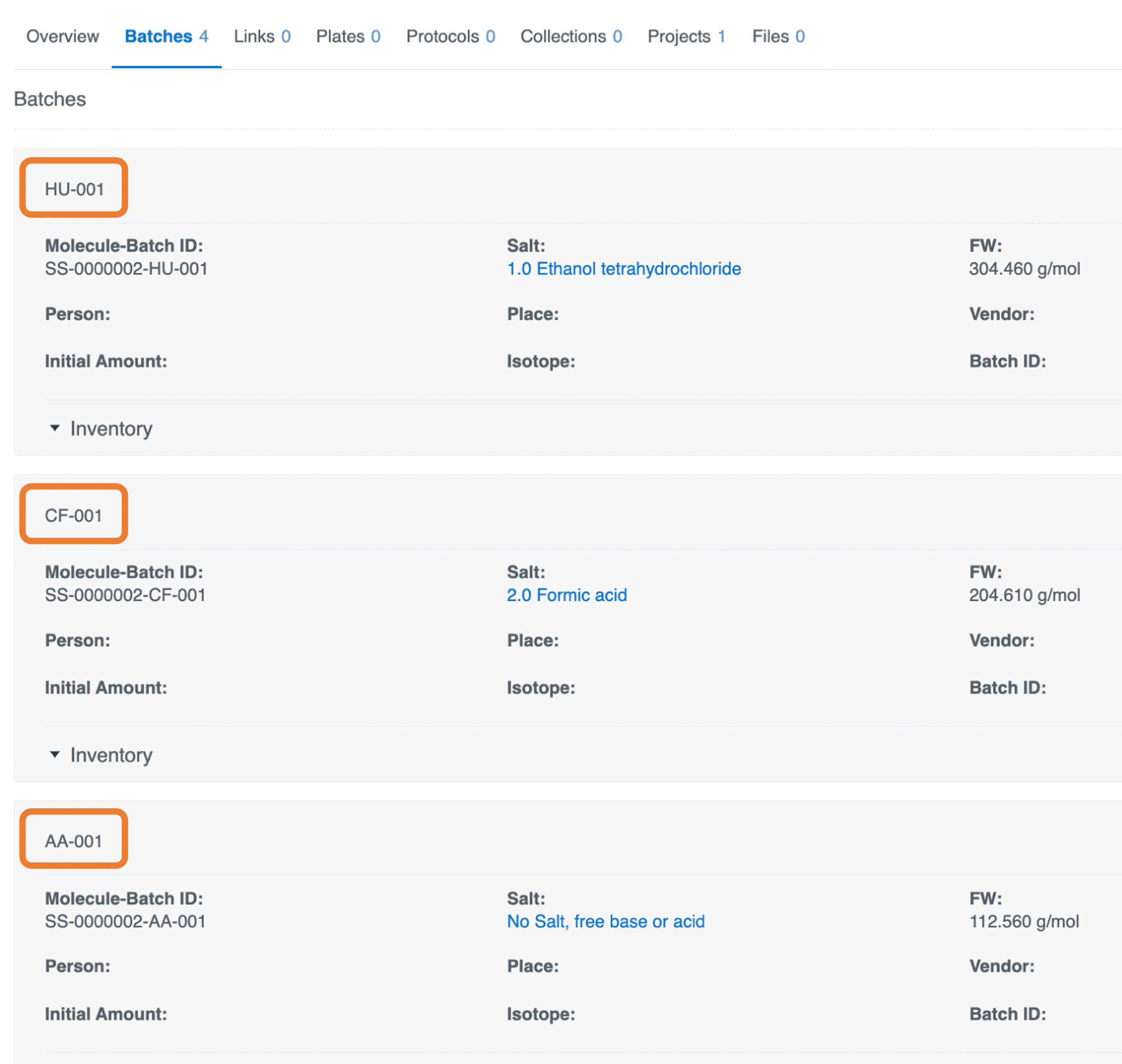 | Name | CXSMILES |
| --- | --- |
| No Solvent | |
| H2O | O |
| Acetone | CC(C)=O |
| n-Butanol | CCCCO |
| s-Butanol | CCC(C)O |
| t-Butanol | CC(C)(C)O |
| Diethyl ether | CCOCC |
| Dimethylsulfoxide | CS(C)=O |
| 1,4-Dioxane | C1COCCO1 |
| Ethanol | CCO |
| Ethylacetate | CCCC(O)=O |
| Hexane | CCCCCC |
| Isobutanol | CC(C)CO |
| Isopropanol | CC(C)O |
| Methanol | CO |
| Methylene Chloride | ClCCl |
| Pentane | CCCCC |
| n-Propanol | CCCO |
| Tetrahydrofuran | C1CCOC1 |