Dose-response data is imported in a two-column format (e.g. concentration and activity) which means you do not have to pre-define your dose series. This allows for variable concentrations across samples and enables you to import data directly from screening plates. Compound plate maps for dose-response data may be imported ahead of time, or simultaneously with the dose-response data. The example below shows simultaneous import.
Control Data
Your raw data file should contain entire plates of raw data, including any control wells. You do run controls, right?
Positive and Negative control data do not need to have a concentration assigned, unless the positive control is also a dose series.

Positive and Negative control data are assigned to a plate and well position.

Reference substance is included just like any other test molecule- with a molecule identifier, and both concentration and activity data. You will designate the control state of this compound on the plate control layout.
Test Molecule Data
Test wells should include a molecule/batch identifier, as well as plate and well position, then concentration and raw activity columns, as shown in the screen-shot below.
For replicate sets of data, include the concentration series, and molecule/batch identifiers for all replicate wells.
If you are importing your compound plate map at the same time as you import dose-response data, your import file will look like this:
If your compound plate maps have been previously imported, you can omit all molecule and batch identifiers, and include only the plate name and well positions. Learn more about molecule identifiers.
In case of a file attachment to your dose-response data (e.g. an image file), it is sufficient to list the the image file name once per compound, it isn't necessary (actually overkill) to add it multiple times.
It should look something like this: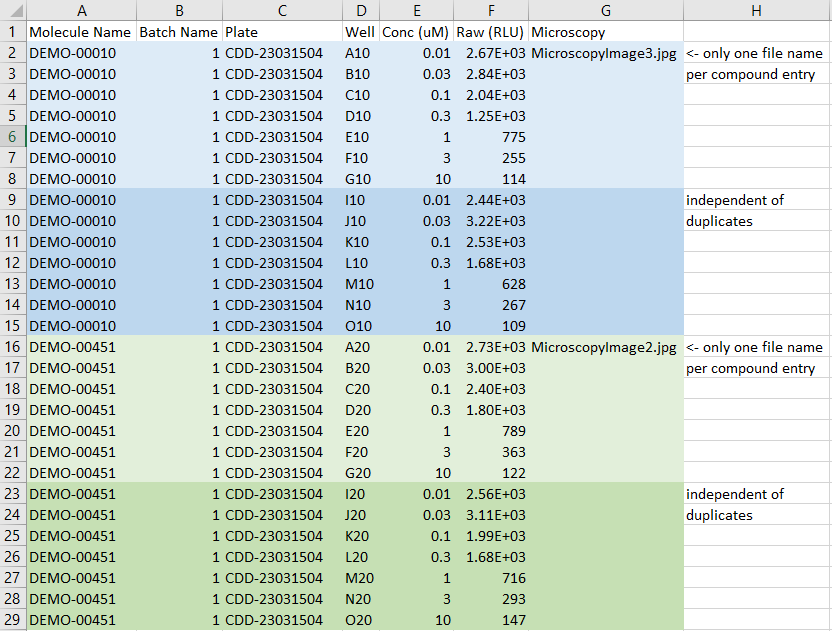 Don't forget to select all files and add them into a .ZIP file (only files, no folders) and upload this .ZIP during the import.
Data Import
The mapping of the above file should look similar to this. Keep in mind that molecule/batch identifiers may be called differently in your vault, and thus will not match the screenshot exactly. We assume here that you have already defined your dose-response protocol.