When importing experimental data into CDD Vault you will find that field-mapping Templates are invaluable for two reasons. First, since mapping the headers of your data file to readout definitions in the protocol is the most time-consuming part of the upload, eliminating that step will greatly speed the process. Second, using a saved Mapping Template will guarantee there is no human error or inconsistency in mapping from one run to the next.
If you prefer a video tutorial, please have a look at this short YouTube clip:
After manually mapping data file headers to readout definitions once, for the very first time, you will be given the chance to save a Mapping Template for future use. If you need help mapping data into your Vault, take a look at our article on Importing Screening Data.
The process to follow is (1) map your columns of data, (2) click "Save this mapping as a template", (3) name your new template, and (4) click Save Mapping Template.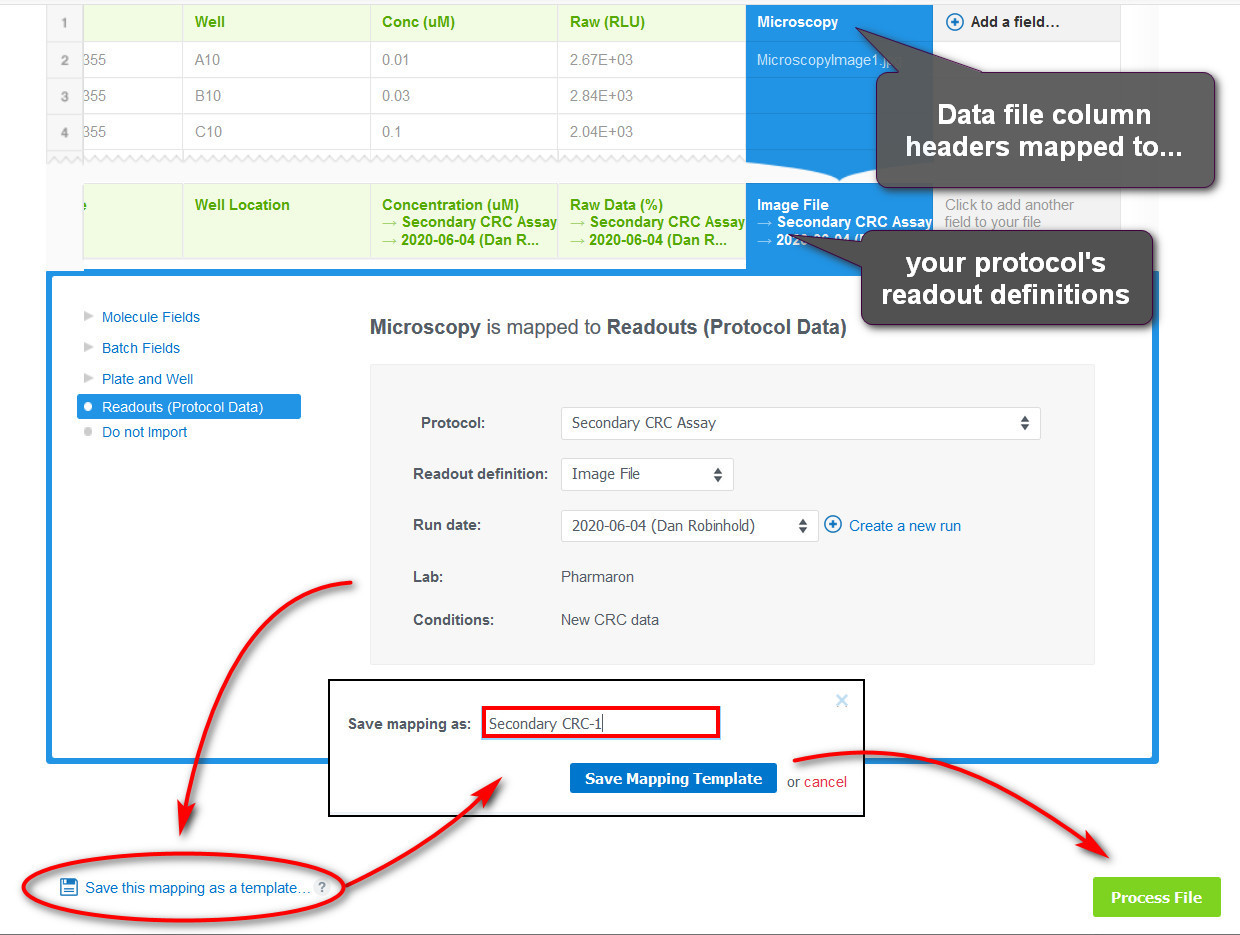 Later, when you upload another data file with the same set of column headers, CDD Vault will offer you the mapping template and if selected, map the columns into your Vault in preparation for processing the import.

NOTE: Projects can play a role in whether or not a specific mapping template is offered to you during an import. For example, if your mapping template is directing data into a Protocol, and the Protocol definition is not already shared with the Project you selected for the import, the Mapping Template will not be recognized as a match and will not be offered as an option for mapping your import file.
Clicking on a template from the list will apply the mappings of the template to your upload. You can still make changes to the mapping after the template is applied. If you want to save changes to the template just re-save the mapping as a template (as in the first screenshot above), use the same name for the mapping template, and the existing template will be updated.
To view and manage existing mapping templates, go to the Import Data tab and click on the Templates tab. In the Templates page you can view the mappings, download a csv file with the headers that will fit that template or delete the template altogether. (Helpful hint: the downloaded file can be given to users who can then easily populate the data in the format that matches the Mapping Template.)