Creating and editing entries in the ELN is as simple as with any common text editor, if not simpler.
(In case you prefer a video tutorial instead, please view the embedded video from our YouTube CDD Academy channel)
Once logged into CDD Vault, create a new ELN Entry by clicking on the ELN tab or the Explore Data tab at the top of the screen. Click '+ Create a new …' in the sidebar and select 'ELN Entry'. Before creating any content in the new Entry you will need to assign it to a project. Only users with access to this project will have access to your ELN Entry. Select a project and click the green Begin Editing button to get started in your new Entry (See figure below). Note that there is never a need to manually save an ELN Entry - as long as you are connected to the internet your work will be saved continuously as you make changes to the content.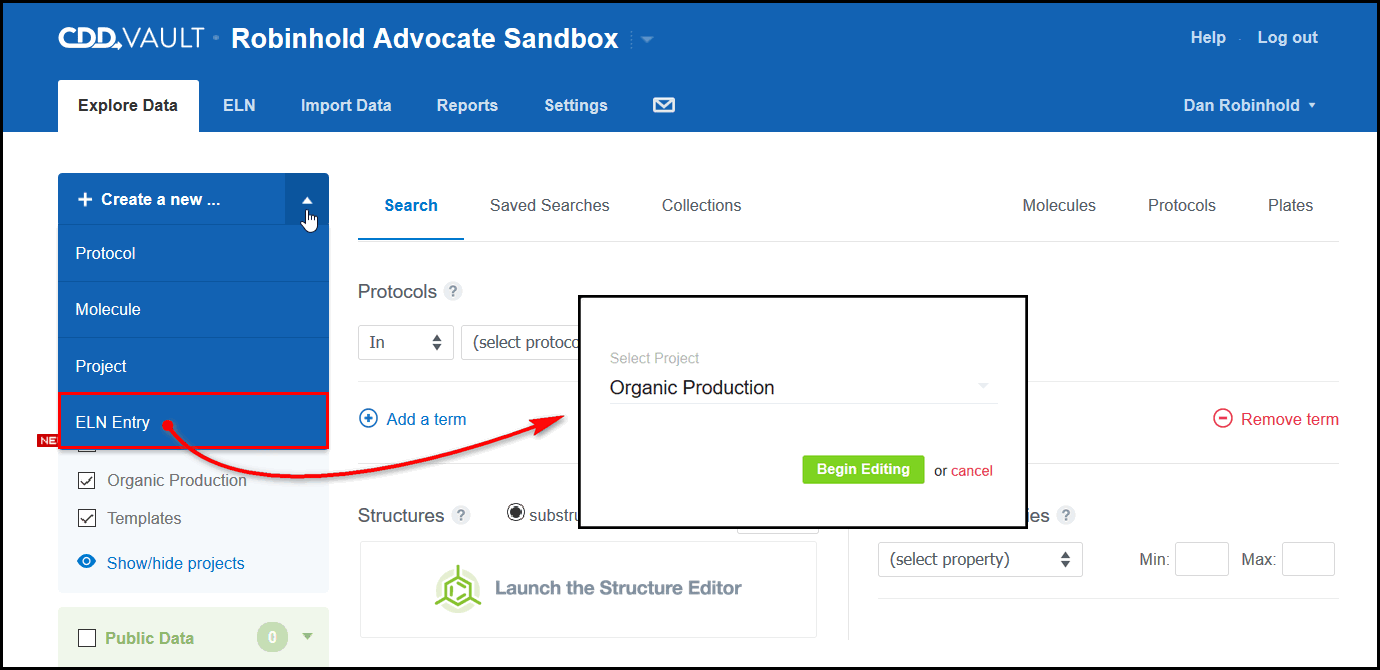 Elements of an ELN Entry:
A ) Title - This is a free-text field that appears in your ELN table of contents. Name the Entry and it will be keyword searchable. All text contained within the Entry, including file attachments are searchable.
B) Finalize / Duplicate / Export / Print
Finalize your Entry only after it is complete and no further editing is needed. Finalizing the record locks it down so that it cannot be edited again. While a warning is provided before the finalization is complete, caution should be exercised when finalizing experiments as this operation cannot be undone.
Duplicate. Create an exact copy (or snapshot) of the current entry. Highly practical for similar experiments to save you a lot typing or having to use copy/paste. Also valued for creating templates, e.g. to enforce certain business rules.
Export. Allows exporting of all attachments (files such as Excel, PDF, etc) with a simple click, automatically combining all into a single .zip file.
Print. In case you need a paper hard-copy, or want a PDF (e.g. via "Print to PDF" function of you operating system) for storage on your own servers.
C) ELN Fields – These fields are defined by your Vault Administrator. The ELN fields section includes Project by default which you have already set but there will most likely be more fields like Location, Experiment Type, Group or Scientist. Constraints can be placed on ELN fields to make them required, unique, or limited to a specific set of values - a picklist. See the ELN Configuration section for detailed instructions on creating new ELN Fields.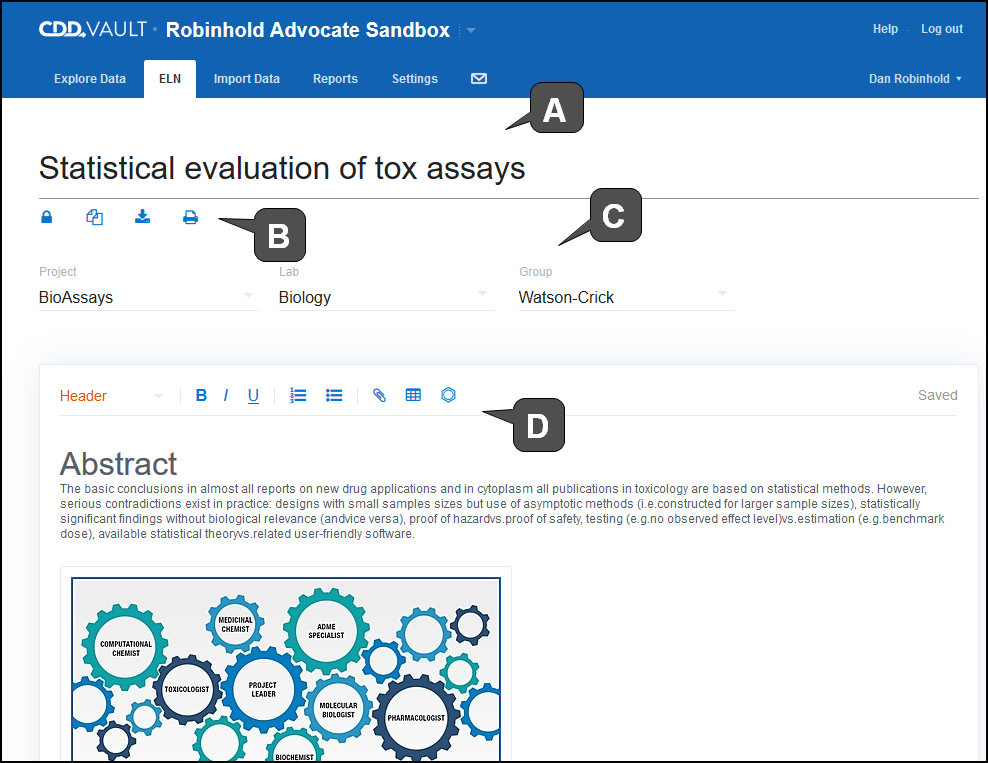 D) Content Editor - This section is the body of an ELN Entry. Of course the content editor has a text editing tool where you can type text or copy and paste content from other documents. Entries can include three different sizes of text, normal, subheader and header text, and characters can be represented in bold, italic and underlined formats. The text editor also supports numbered, bulleted and checklists.
Pro tip: Special characters can be inserted into the text of an Entry by copying them into the text section or using the Alt-code for the special character (on Windows systems). For example, on a Windows system, hold down the alt key and type on the keypad '230' to make a mu symbol (µ).
Some commonly used special characters include:

Special characters are also available on a Mac system using the standard virtual keyboard or by typing other keyboard combinations. For example, on a Mac, the keyboard shortcut for the Mu symbol (µ) is Option+M while the keyboard shortcut for the degree symbol (°) is Option+Shift 8.
The real power of the menu bar comes with the last three buttons: Attachments, Tables and Structures.
Insert Attachment(s):
Any file type can be associated to an ELN Entry in any of three ways:
Drag/Drop onto the text editor

Copied from a file system and pasted into the ELN Entry

Uploaded to the ELN by clicking on the paperclip icon and browsing to the file on your computer
Here's a useful tip - take your mobile phone or tablet into the lab with you and snap pictures directly into your CDD Vault ELN entry. Just follow these quick and easy steps:
Log in to your CDD Vault ELN via your mobile device's Browser

Navigate to the ELN tab and either open an existing ELN entry or create a new entry

Click in the whitespace where you want to insert the picture

Click the Insert Attachment (paper clip) button

Choose the "Camera" option on your device

Snap your picture and click Accept

Watch this video tutorial from our YouTube CDD Academy channel to see how!
Insert Table(s):
Create a table in your Entry by clicking on the Table icon in the menu bar. Drag to select the number of columns and rows in your new table and click to insert the table.


Once the cursor is inside the table, use the arrow keys to move between cells. The tab button will move you to the next cell in the table. Three new icons will be available in the menu bar: insert/delete row, insert/delete column and delete table. Hover your pointer over any icon to see its function.
In the example below, the user clicks on the Column Insert/Delete icon to see a column action menu. Selecting the Delete choice will delete the column where the cursor is currently resting. (Highlighted in yellow.)

Insert Molecule(s):

The Insert Molecule button allows users to draw and insert a chemical structure into an ELN entry. The chemical intelligence underneath CDD Vault and CDD ELN is handled by ChemAxon. Marvin for JavaScript is used by CDD to add structures to the database through the web interface. Marvin JS is web-based so it requires no installation or licensing of chemical drawing/rendering tools, it just works.
Structures can be added to the Entry through several routes:
Drawing

the structure directly into the window using Marvin's drawing tools.

Drag and drop

a structure file into the MarvinJS window. All common structure file types are supported (

list of allowable file types).
Copy and paste

a text-based file like SMILES, InChi, Mol or CDXML into the window. Note that many browsers do not allow Javascript applications to have access directly to the clipboard. If you try to paste using the mouse you may get a nudge to use ctrl-V instead making the action available via browser actions.

Import

the structure using the open/import folder icon at the top of MarvinJS. This will let you browse to a structure file or paste a text structure into the body of the Entry.
After entering your structure click Use this Structure and it will be added to the body of your Entry. The green Use this Structure button and the Import Structure tool are shown below.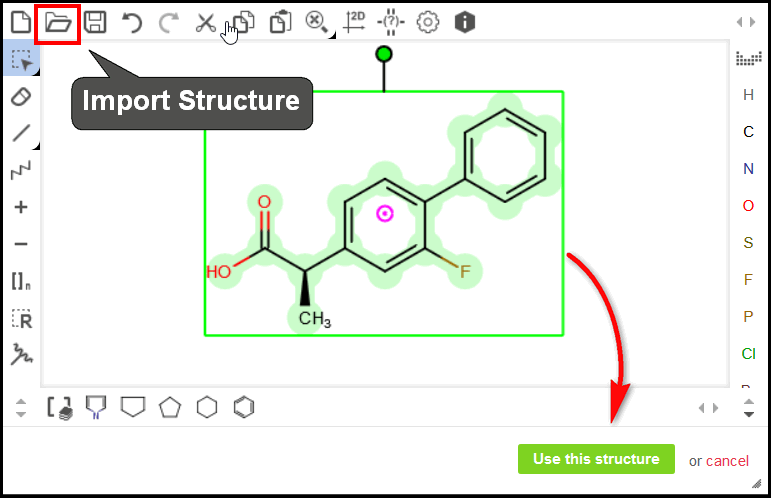 Registering Compounds from an ELN Entry:
If your structure is already registered in CDD Vault then the registration number will be linked to the Activity and Registration page for that product (see A below). Clicking this link will take you directly to that registered compound. All chemical structures in an Entry will have a Register link in the upper left corner of the preview (B below).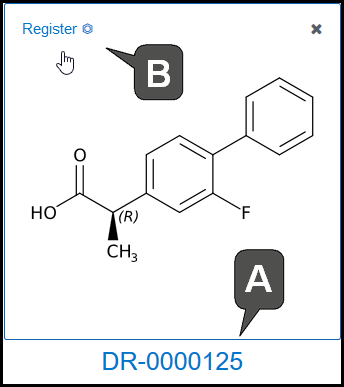 Clicking Register will route you to the Vault's Activity & Registration platform where you can fill the form to register a new molecule or a new batch of an existing molecule.
Any compound or batch registered from an ELN Entry will have a link to that Entry in the Activity & Registration space. The Registration-ELN links go both ways so that you can easily toggle from a compound in the ELN to the Registry and back. (See figure below)

Pro tip: Holding down the *Ctrl key when following a link in CDD will open the target in a new tab keeping the original page open.