Creating and editing entries in the ELN is as simple as with any common text editor, if not simpler. Due to its flexibility, the CDD Vault ELN can be used for taking notes, collaborating on papers, reference management, managing CRO's, and capturing detailed chemical and biological experiments.
(In case you prefer a video tutorial instead, please view the embedded video from our YouTube CDD Academy channel-note: some of the latest enhancements might not be included in this video)
Creating a new ELN Entry:
Once logged into CDD Vault, create a new ELN Entry by clicking on the ELN tab or the Explore Data tab at the top of the screen. Click '+ Create a new …' in the sidebar and select 'ELN Entry'.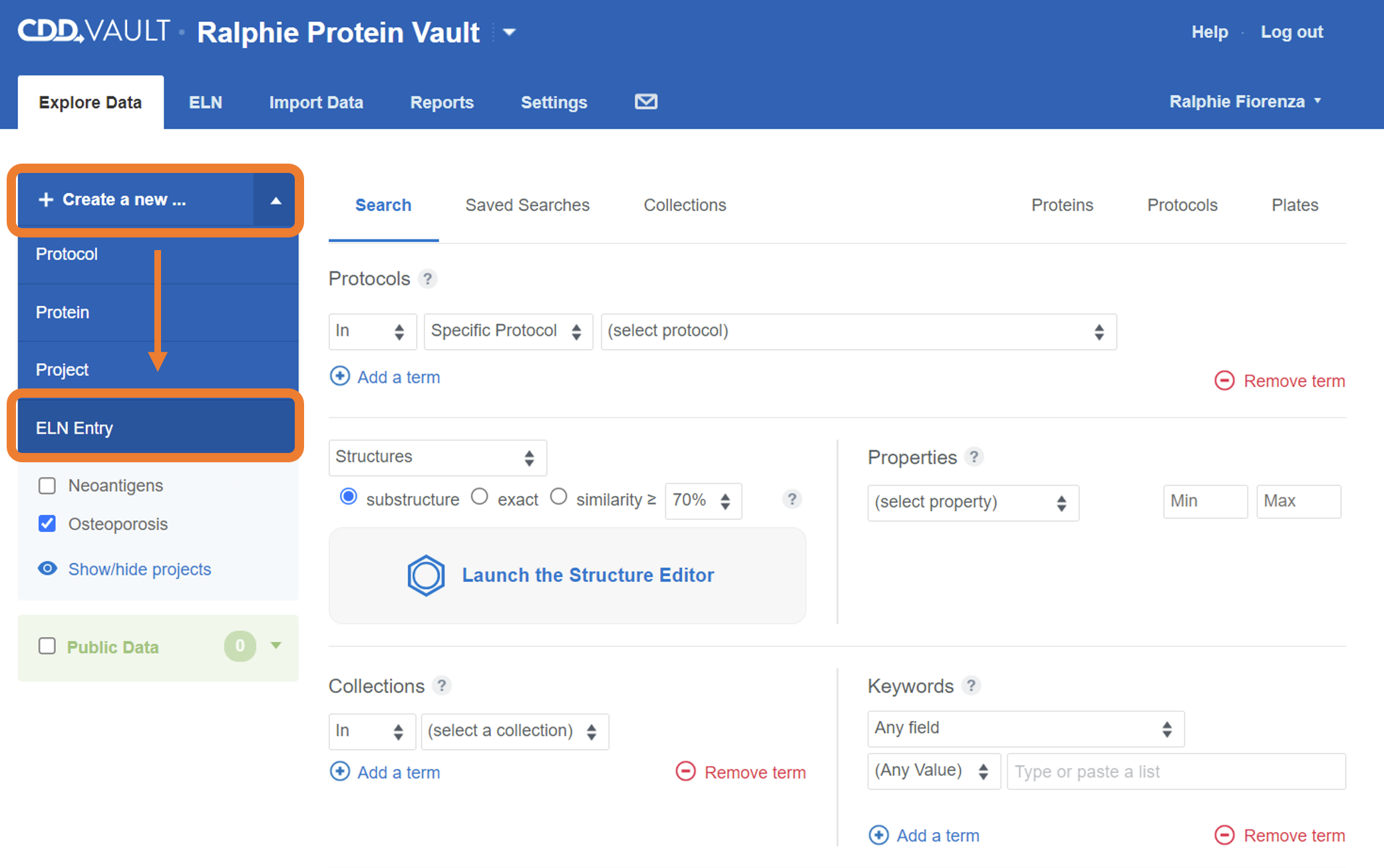 Before creating any content in the new Entry you will need to assign it to a project. Only users with access to this project will have access to your ELN Entry. Select a project and click the green Begin Editing button to get started in your new Entry (See figure below).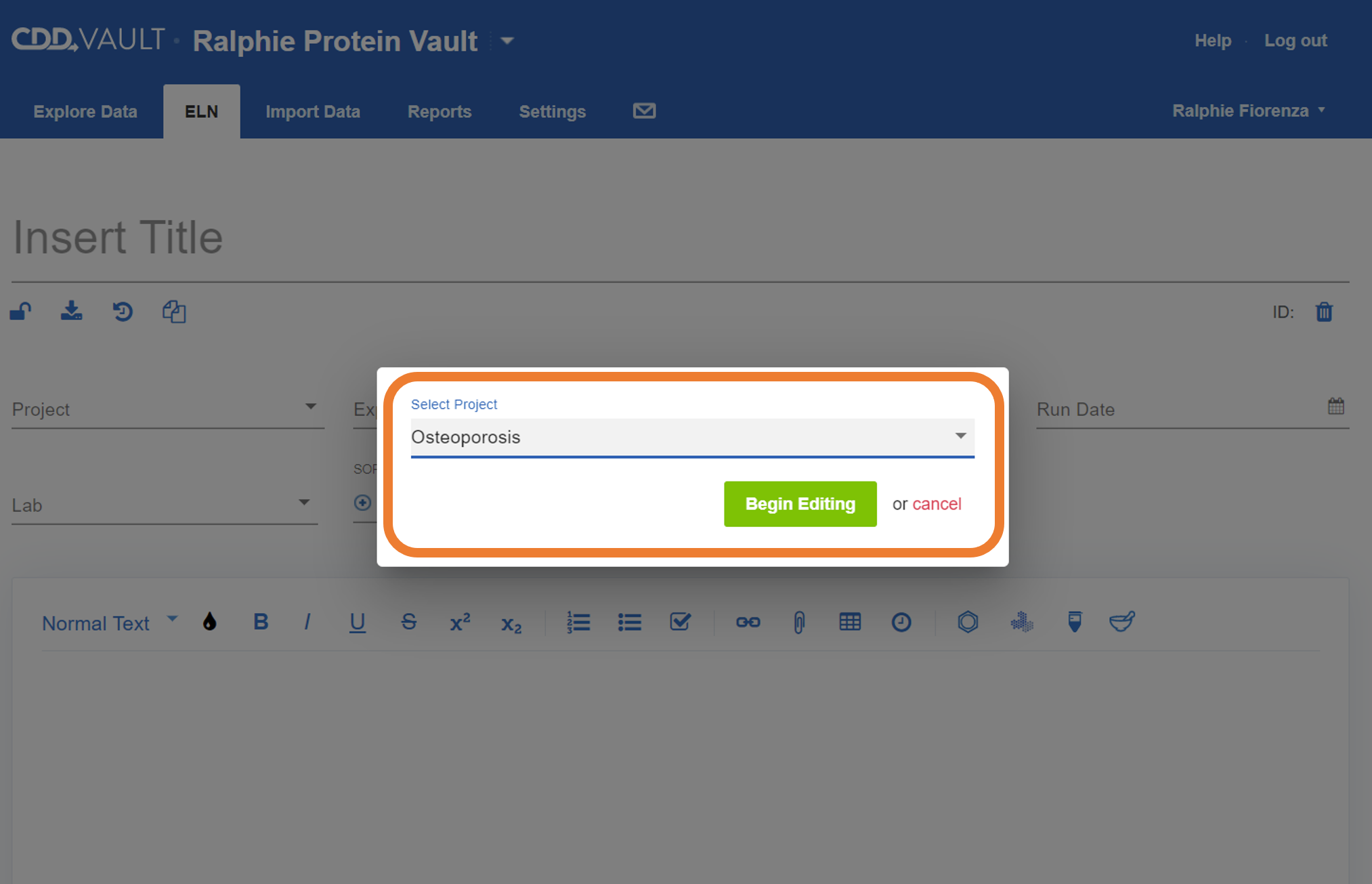 Note that there is never a need to manually save an ELN Entry - as long as you are connected to the internet your work will be saved continuously as you make changes to the content.
Elements of an ELN Entry :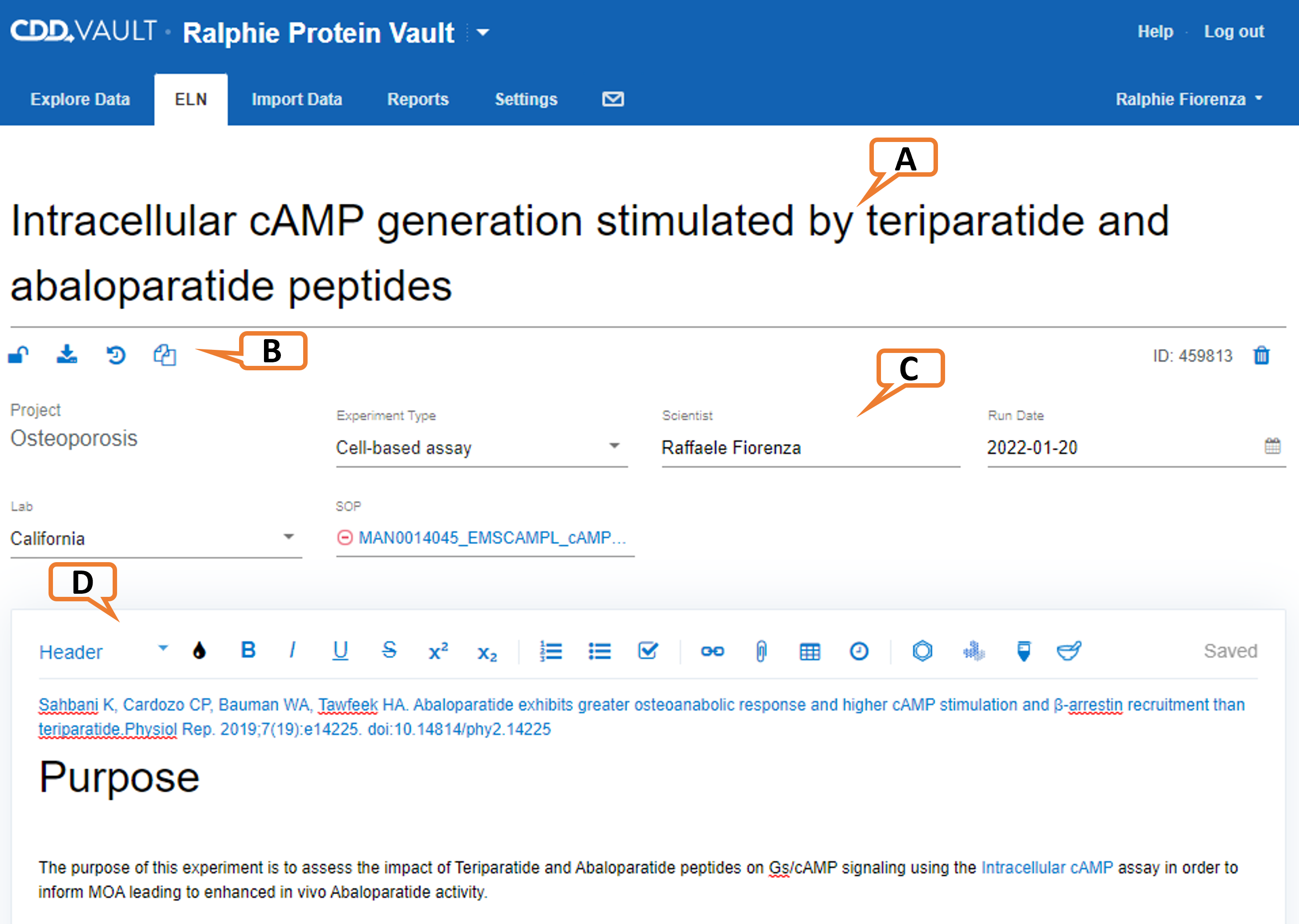 A ) Title - This is a free-text field that appears in your ELN table of contents. Name the Entry and it will be keyword searchable. All text contained within the Entry, including file attachments are searchable.
B) Finalize / Duplicate / Export / Audit Trail
Finalize your Entry only after it is complete and no further editing is needed. Finalizing the record locks it down so that it cannot be edited again. CDD Vault also has a witnessing workflow that your Vault Administrator can enable at the Finalize step.

While a warning is provided before the finalization is complete, caution should be exercised when finalizing experiments as this operation can only be undone by a Vault Administrator.

Duplicate Create an exact copy of the current entry. Highly practical for similar experiments to save you a lot typing or having to use copy/paste. Also helpful for creating experimental templates or documenting experimental procedures, e.g. to enforce certain business rules.
Export Allows exporting of all attachments (files such as Excel, PDF, etc) and the ELN body with a simple click, automatically combining all into a single .zip file.

Audit Trail This allows users to see a log of who made modifications to an ELN entry and when they made them. From here, users can also download .csv audit trail.
C) ELN Fields – These fields are defined by your Vault Administrator. The ELN fields section includes Project by default which you have already set but there will most likely be additional fields like Location, Experiment Type, Group, or Scientist. Constraints can be placed on ELN fields to make them required, unique, or limited to a specific set of values - a picklist. ELN fields can be used when searching and filtering through ELN Entries. See the ELN Configuration section for detailed instructions on creating new ELN Fields.
D) Content Editor - This menu bar has tools that enable editing the content of the ELN body. Within the ELN body, you can type text or copy and paste content from other documents. The menu bar has standard text editing tools including: text size, color, typographical emphasis (bold, underline, italics, strikethrough ), lists (number, bullet, interactive checklist).
Pro tip: Special characters can be inserted into the text of an Entry by copying them into the text section or using the Alt-code for the special character (on Windows systems). For example, on a Windows system, hold down the alt key and type on the keypad '230' to make a mu symbol (µ).
Some commonly used special characters include:

Special characters are also available on a Mac system using the standard virtual keyboard or by typing other keyboard combinations. For example, on a Mac, the keyboard shortcut for the Mu symbol (µ) is Option+M while the keyboard shortcut for the degree symbol (°) is Option+Shift 8.
The real power of the menu bar comes with the features on the right which enable connecting the ELN to the Activity and Registration system, adding attachments, and links.
Insert Link(s):
Using the Insert Link icon, you can leverage the power of the CDD Vault platform and link to various CDD Vault objects and external hyperlinks within an ELN entry. Additional information can be found in this article covering linking in the ELN.

You can search for objects registered in vaults that you belong to via the Insert Link icon, a very handy way to retrieve compounds, cell lines, protocols, ELN pages, etc. that you already have in your vault via a synonym/title or CDD Vault ID.
In this example, the Insert Link icon was used to populate a materials table in an ELN entry by looking up A-375 as a synonym of a CDD Vault registered cell line CELL-0000106.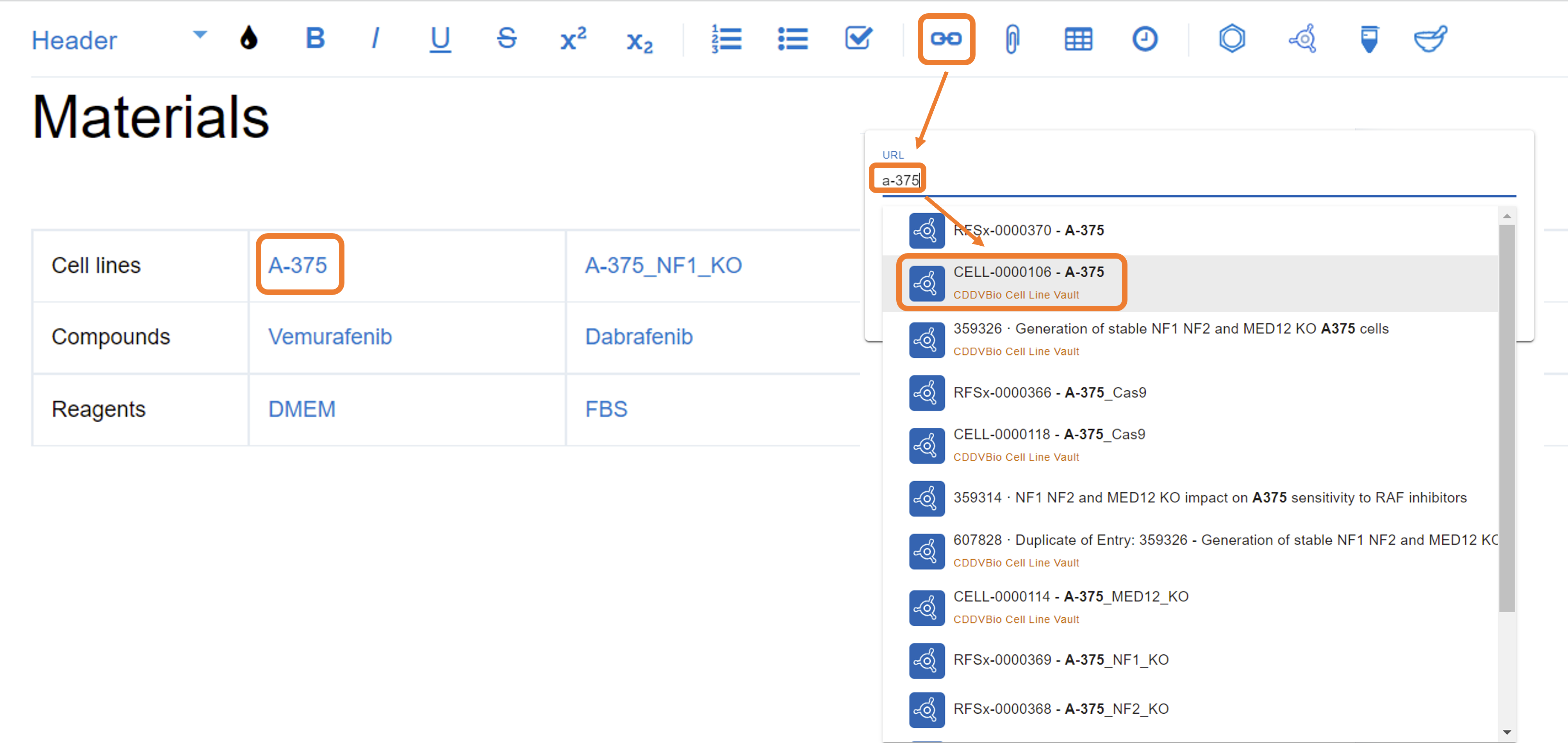 Hyperlinks to any web address, as well, as internal CDD Vault hyperlinks can also be inserted via the Insert Link icon. This is a great way to use the ELN to stay organized and connect CDD Vault to a manufacturer website, shared document drive, or even high content imaging server.

Insert Attachment(s):
Any file type can be associated to an ELN Entry in any of three ways:
Drag/Drop the file into the body of the ELN Entry

Copied from a file system (folder on your computer) and pasted into the ELN Entry

Uploaded to the ELN by clicking on the Paperclip icon and browsing to the file on your computer

CDD Vault integrates with Microsoft Office 365 allowing you to view and edit Office documents (Word, Excel and PowerPoint) in Office 365 directly from a CDD ELN entry.
File attachments that are indexed as text (PDF and Word documents) are searchable via the ELN search interface.
This enables you to store papers and documents in an ELN entry and then search for keywords contained in those attachments across all of your ELN entries.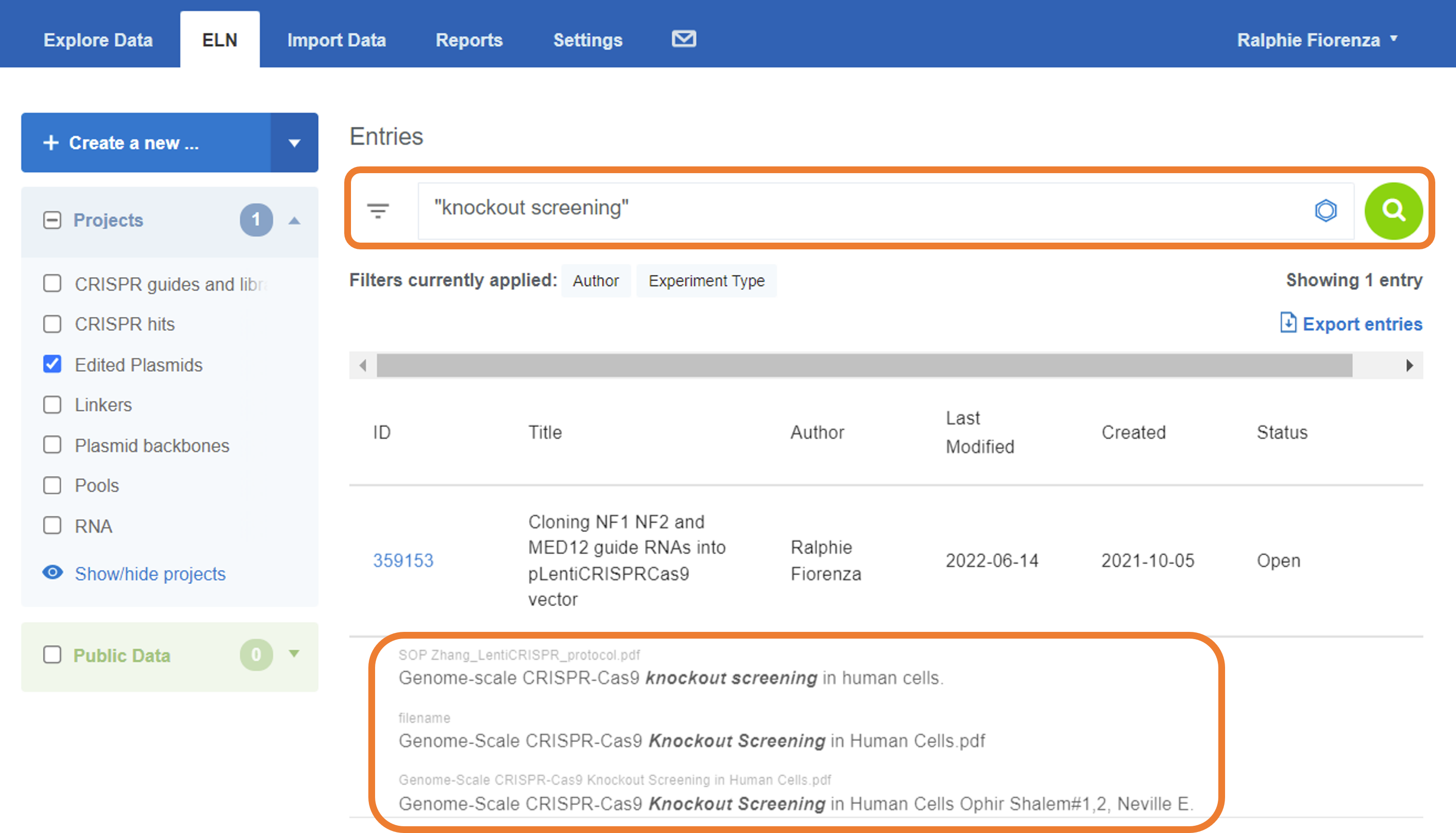 Upload Excel and SDF files to Bulk register chemical and biological entities and import assay data right from an ELN entry. More on that here.
Simply drag-and-drop your file, or use the Insert Attachment icon, to attach your data file into an ELN entry. Now, hover your mouse over this attached file and click the Import File icon.
This will take you to the CDD Vault Import Data wizard where you can complete your data import process. Importing data from the ELN will create an automated breadcrumb link between the run of protocol data or chemical/biological entity in the Activity and Registration module and the ELN entry from which it was imported (see below).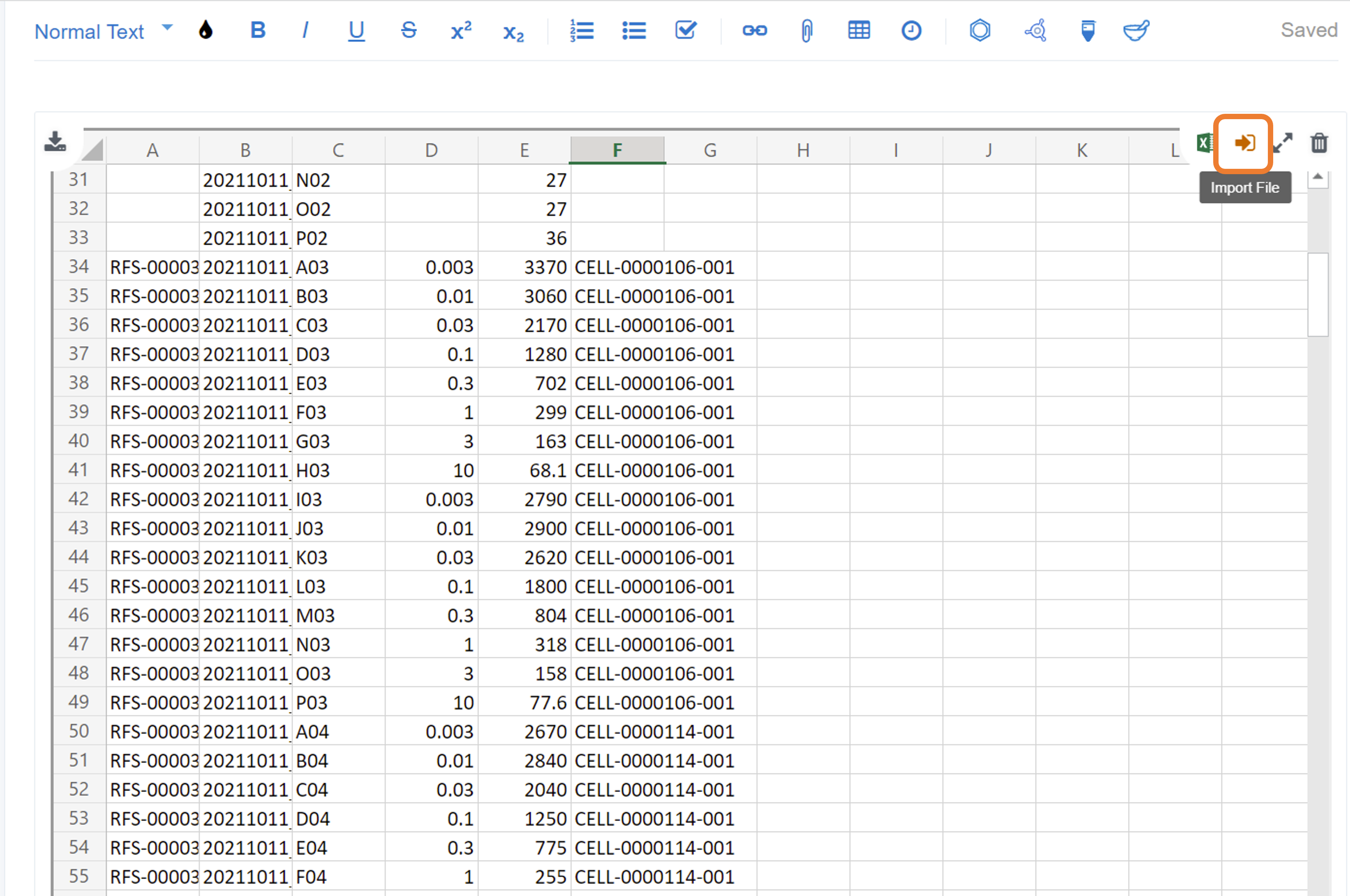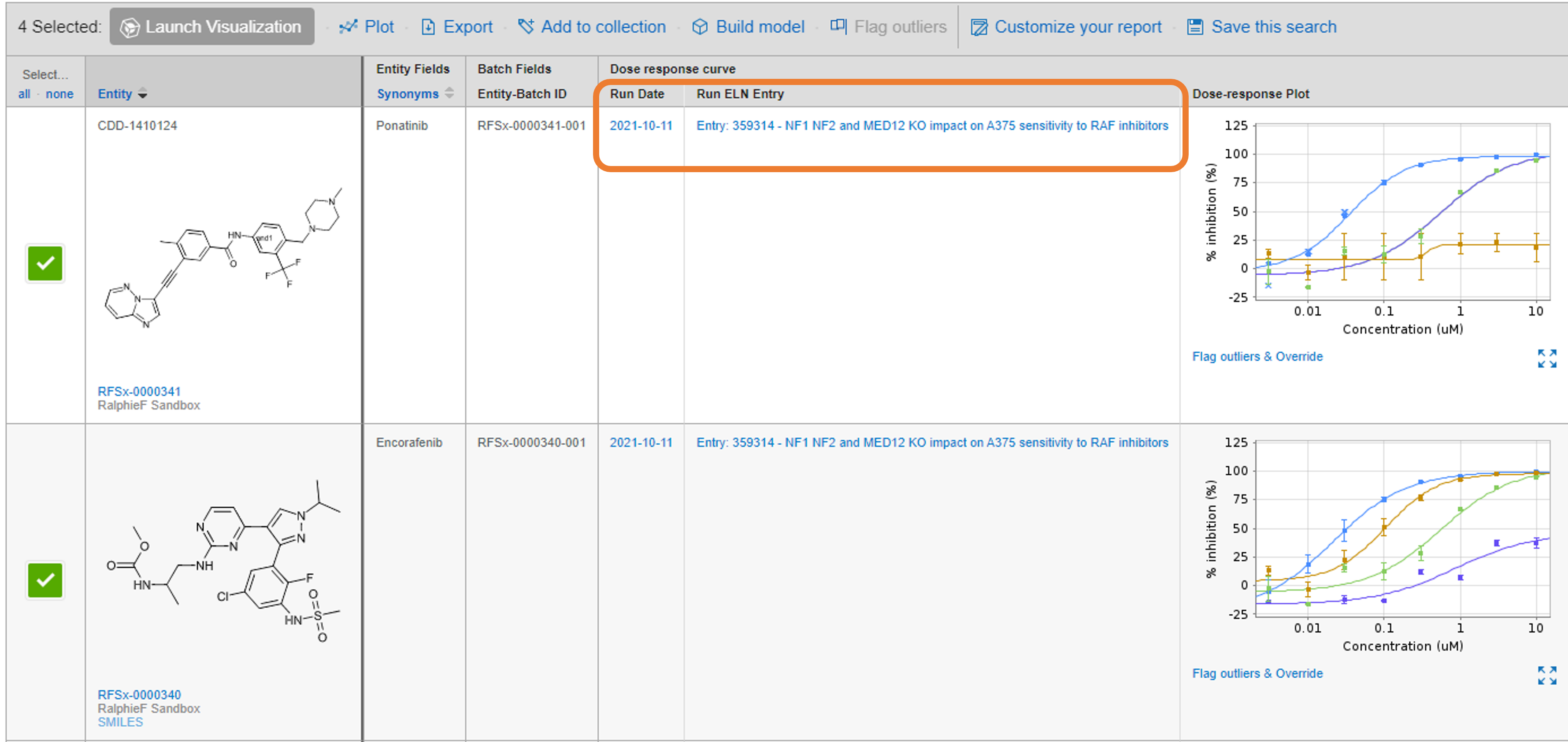 Here's a useful tip - take your mobile phone or tablet into the lab with you and snap pictures directly into your CDD Vault ELN entry. Just follow these quick and easy steps:
Log in to your CDD Vault ELN via your mobile device's Browser

Navigate to the ELN tab and either open an existing ELN entry or create a new entry

Click in the whitespace where you want to insert the picture

Click the Insert Attachment (paper clip) button

Choose the "Camera" option on your device

Snap your picture and click Accept

Watch this video tutorial from our YouTube CDD Academy channel to see how!
Additional information can be found in this article on ELN attachments.
Insert Table(s):
Create a table in your Entry by clicking on the Table icon in the menu bar. Drag to select the number of columns and rows in your new table and click to insert the table.


Once the cursor is inside the table, use the arrow keys to move between cells. The tab button will move you to the next cell in the table. Three new icons will be available in the menu bar: insert/delete row, insert/delete column and delete table. Hover your pointer over any icon to see its function.
In the example below, the user clicks on the Column Insert/Delete icon to see a column action menu. Selecting the Delete choice will delete the column where the cursor is currently resting. (Highlighted in yellow.)

Here's a useful tip: You can insert a materials table within your ELN entry and utilize the Linking function discussed above to link to reagents (Cell lines, small molecules, plasmids...) and external sites.

Insert Timestamp(s):
The Insert Timestamp (clock) icon adds a time and date stamp to the location on the ELN page where your cursor is. This can be a handy way to keep track of a multistep experiment or synthesis. Additionally, since multiple users can collaborate in an ELN entry at the same time (see this User Roles Article), timestamps are a nice way to let your colleague know when you finished a step of an experiment.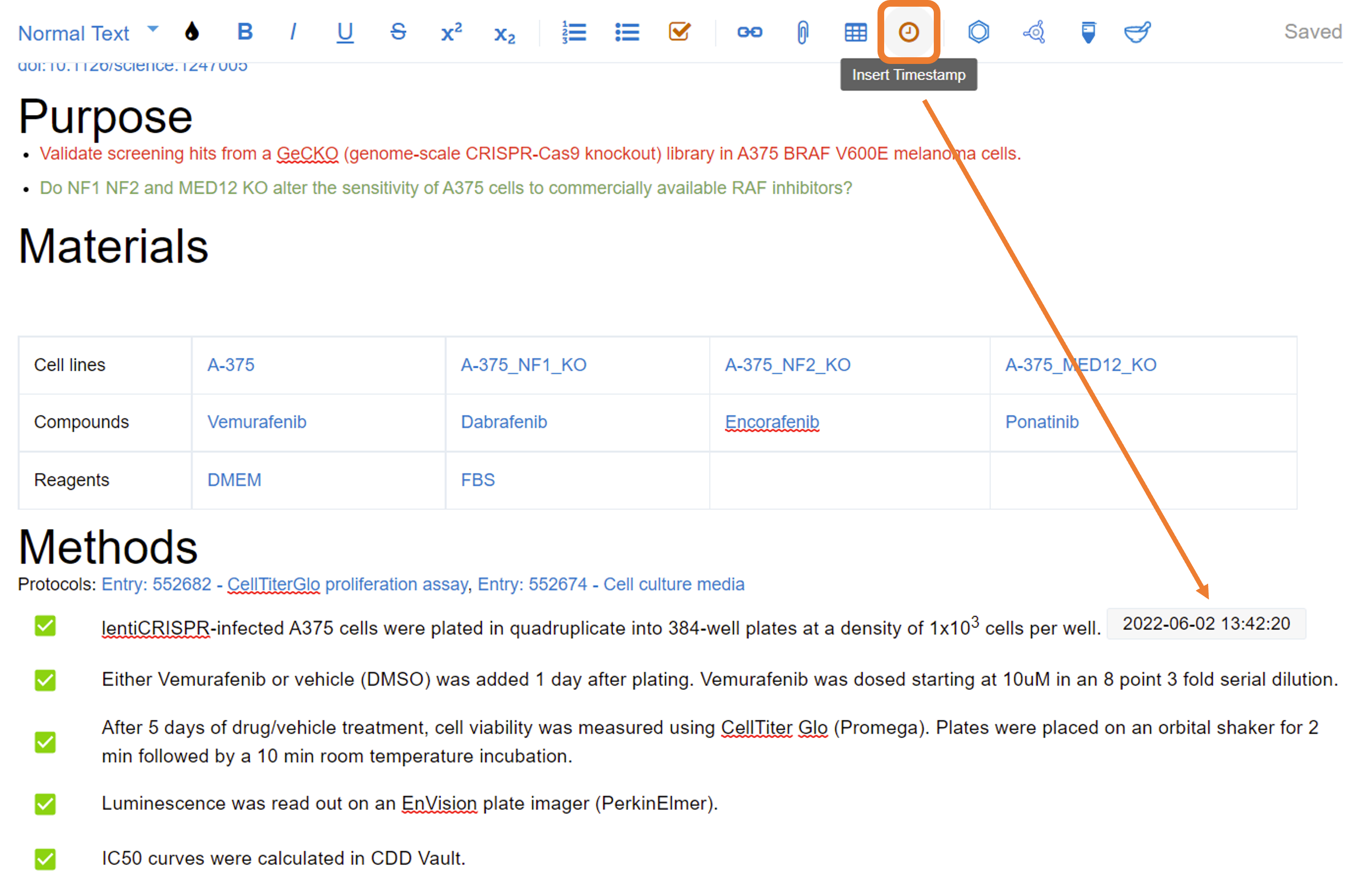 Registration:
Since the CDD Vault ELN is connected to the Activity and Registration system, you can register chemical and biological entities directly from the ELN which will create a link between the ELN and the Activity and Registration system.
Chemistry:
Insert Structures or Reaction


The Insert Structure or Reaction icon allows users to draw and insert a chemical structure into an ELN entry.

Structures can be added to the Entry through several routes:
Drawing

the structure directly into the window using Ketcher's drawing tools.

Drag and drop

a structure file into the window. All common structure file types are supported (

list of allowable file types).
Copy and paste

a text-based file like SMILES, InChi, Mol or CDXML into the window. (If you try to paste using the mouse you may get a nudge to use ctrl-V instead making the action available via browser actions.)

Import

the structure using the open/import folder icon at the top of Ketcher. This will let you browse to a structure file or paste a text structure into the body of the Entry.
After entering your structure click Use this Structure and it will be added to the body of your Entry. The green Use this Structure button and the Import Structure tool are shown below.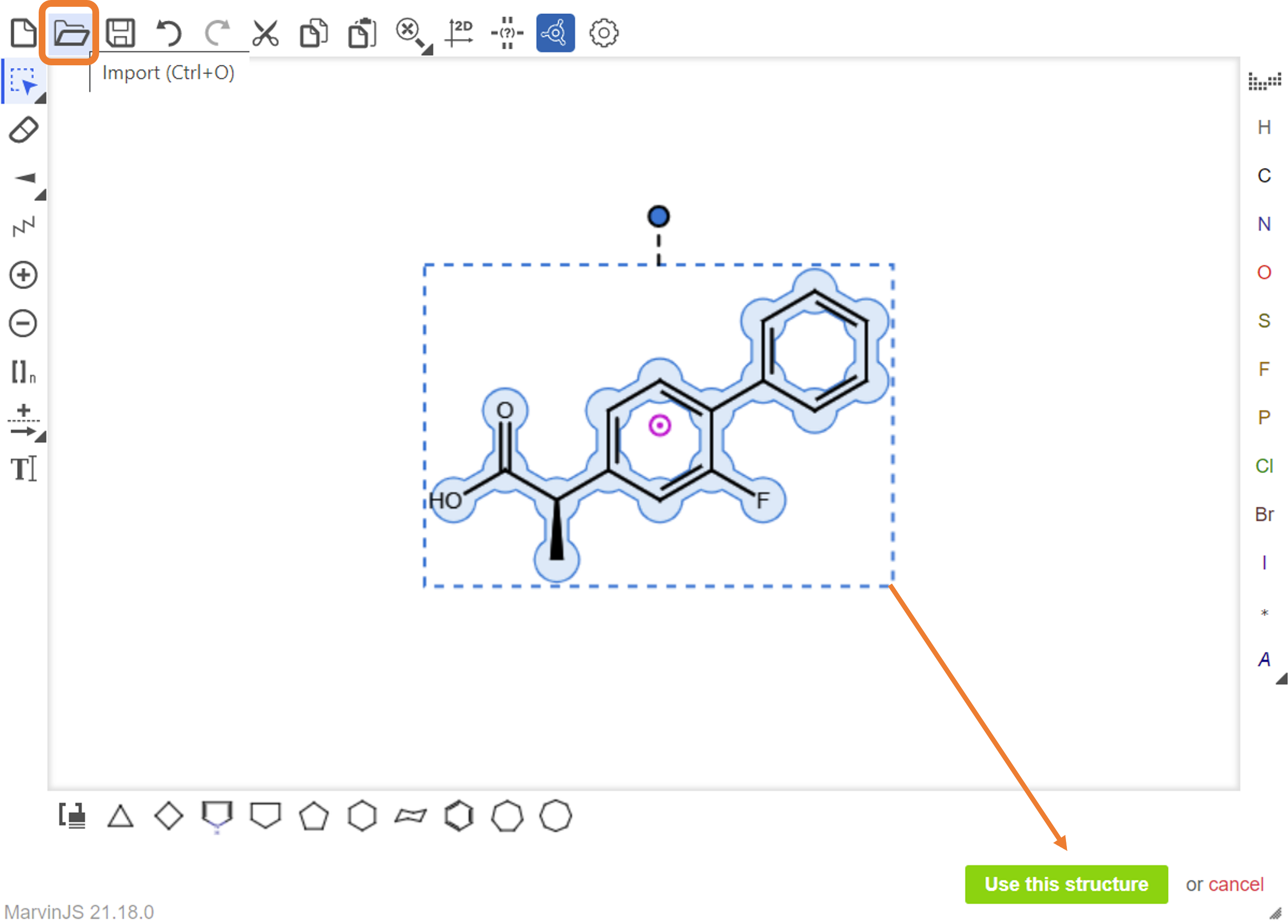 Registering Compounds from an ELN Entry
If a structure that you have drawn/imported is already registered in your CDD Vault, then the registration number will appear beneath the structure on the ELN page and be linked to the Activity & Registration page for that structure (see A below). Clicking this link will take you directly to that registered compound in the Activity & Registration module. All chemical structures in an ELN Entry will have a Register link in the upper left corner of the preview (B below).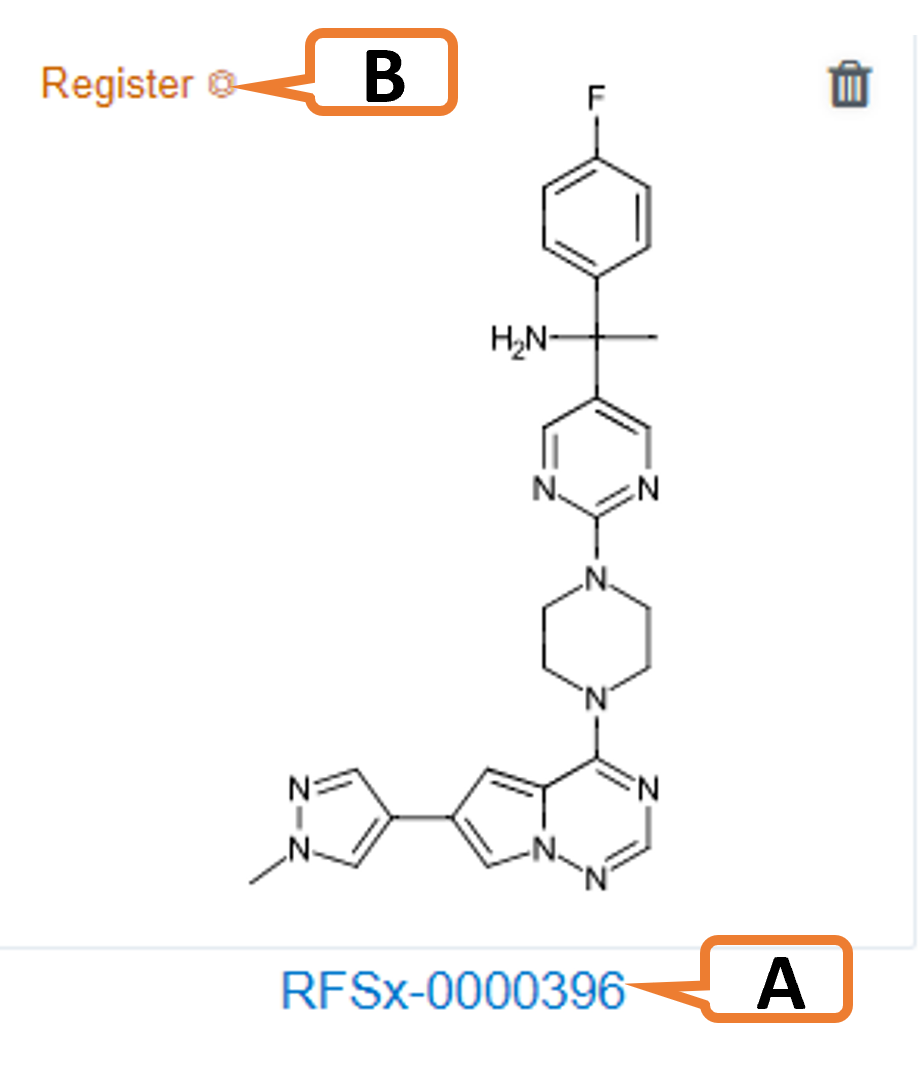 Clicking Register will route you to the Vault's Activity & Registration module where you can fill the form to register a new molecule or a new batch of an existing molecule.
Any compound or batch registered from an ELN Entry will have a link to that Entry in the Activity & Registration space. The Registration-ELN links go both ways so that you can easily toggle from a compound in the ELN to Activity & Registration, and back. (See figure below)

Pro tip: Holding down the *Ctrl key when following a link in CDD will open the target in a new tab keeping the original page open.
Pro tip: You can also bulk register small molecules from an Excel or SDF file that is attached to an ELN entry. Please see this knowledgebase article for additional information.
Stoichiometry table
CDD Vault gives you the ability to insert interactive and editable reactions and stoichiometric tables into your ELN entries with seamless integration to the Activity & Registration module of your CDD Vault. Draw or import your chemical reactions and provide your known masses, purity and density to determine product yield. Register molecules and reagents directly from the stoichiometry table within your ELN entry. Registered molecules in your table are automatically linked to its registered Molecule ID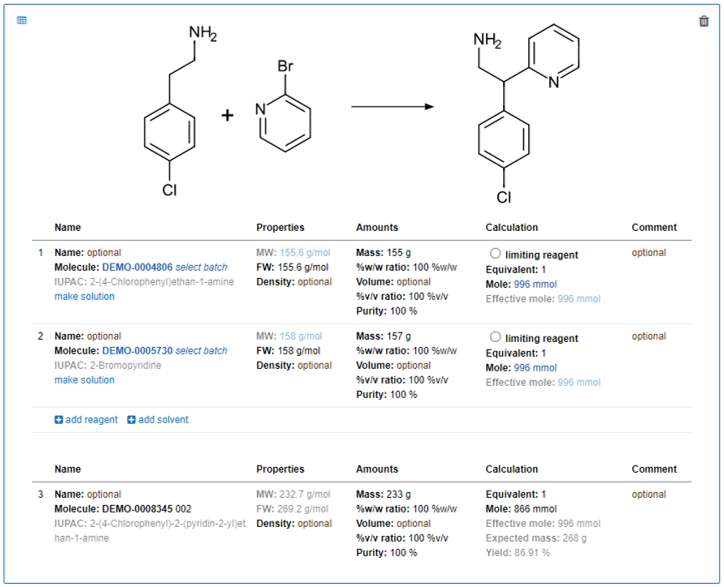 Additional information on the ELN stoichiometry table can be found here
Biology:
Registering Biological entities (Nucleotides, Amino Acids, Cell lines...) from an ELN Entry
By selecting the Insert New Entity icon to the right of the Insert Structure or Reaction icon, users will be able to register nucleotides, antibodies, cell lines, or any biological entity that they have enabled within their Activity and Registration system.

In the case below, this is a Nucleotide registration form via the ELN and is the same form that would be used in the Activity & Registration module to register new entities. More on single entity registration can be found here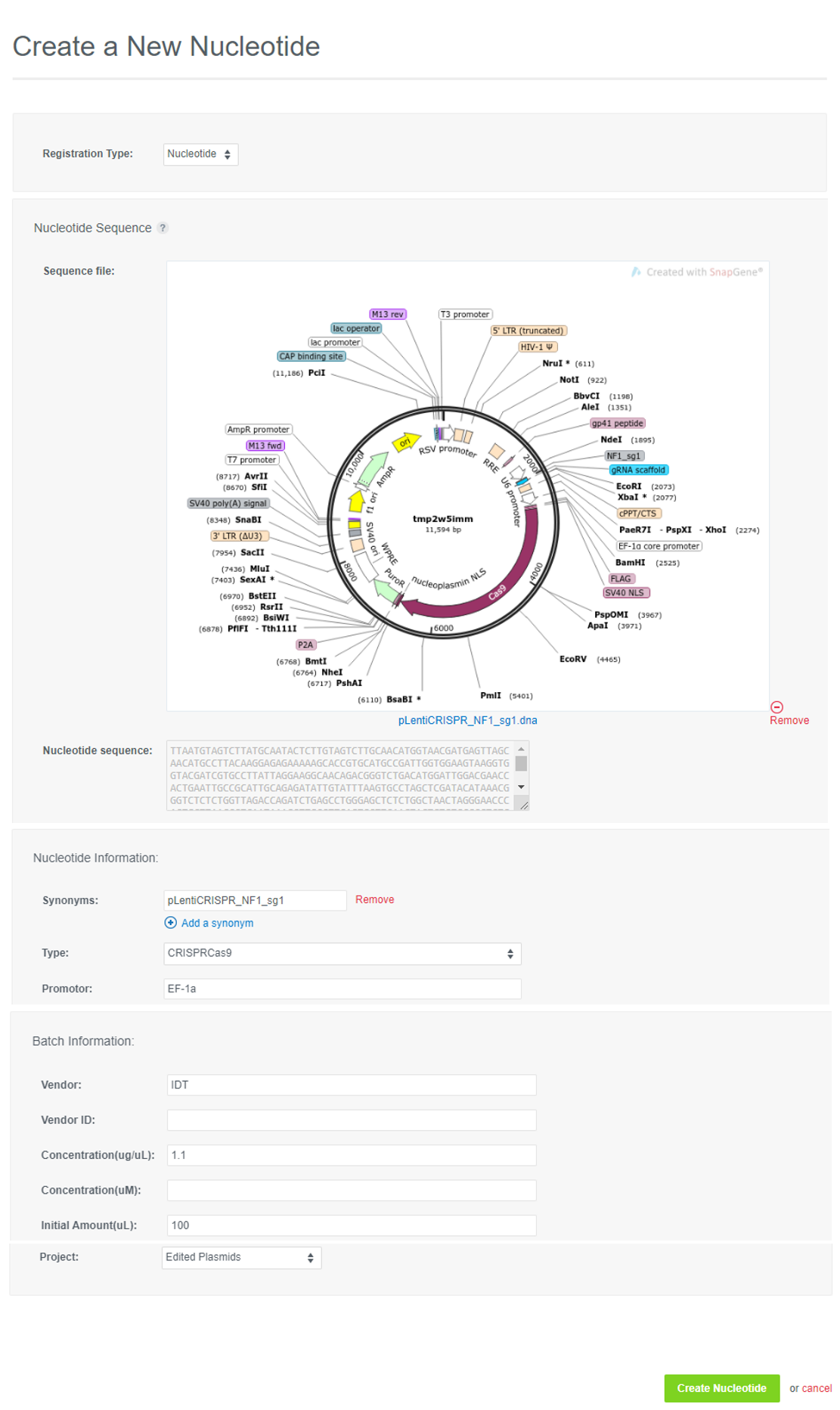 Once a biological entity is registered (by clicking Create Nucleotide above) from an ELN Entry, the ELN entry will have a link to the Activity & Registration module. The Registration-ELN links go both ways so that you can easily toggle from a plasmid in the ELN to the Registry and back. (See figure below)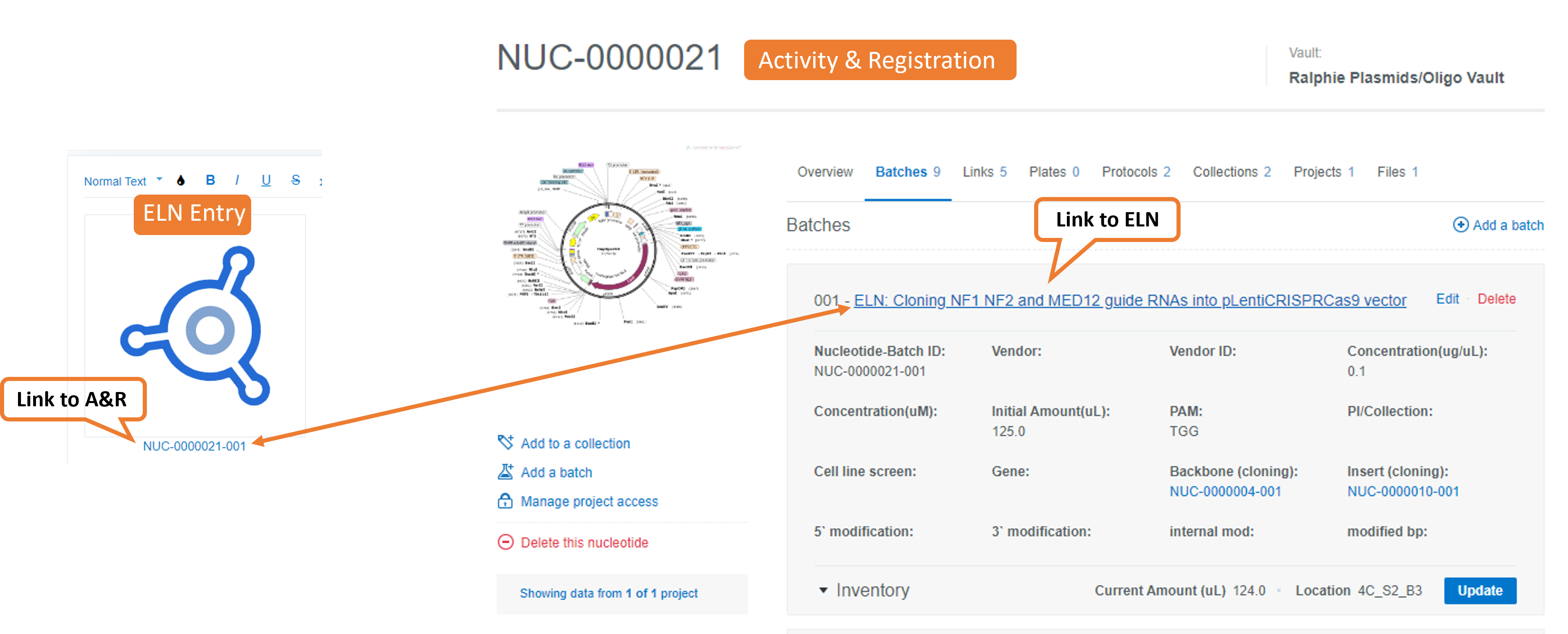 Additional ELN capabilities:
Assay annotation
The CDD Vault Electronic Lab Notebook now incorporates a key piece of CDD's BioHarmony: Annotator technology. The Assay Annotation tool helps your teams maintain experimental reproducibility by easily annotating ELN entries using semantic web terms. More on Assay annotation here.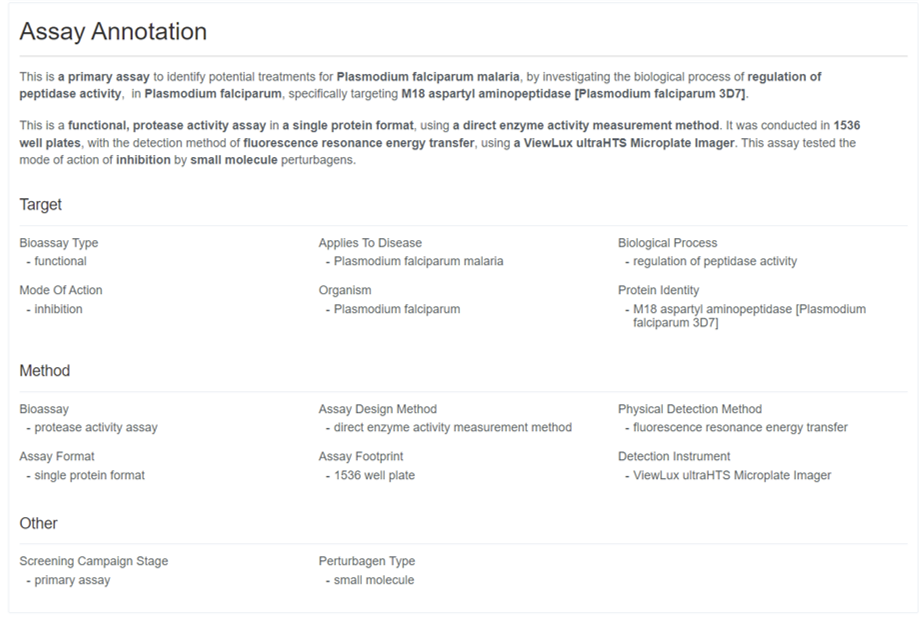 Mixture Editor:
From the ELN toolbar, you have the option to compose a mixture right from the ELN. Mixtures are a way to create a new registered entity that contains two or more previously registered entities. Think chemical formulations, vaccines, ADCs, AAVs. More on Mixtures can be found here.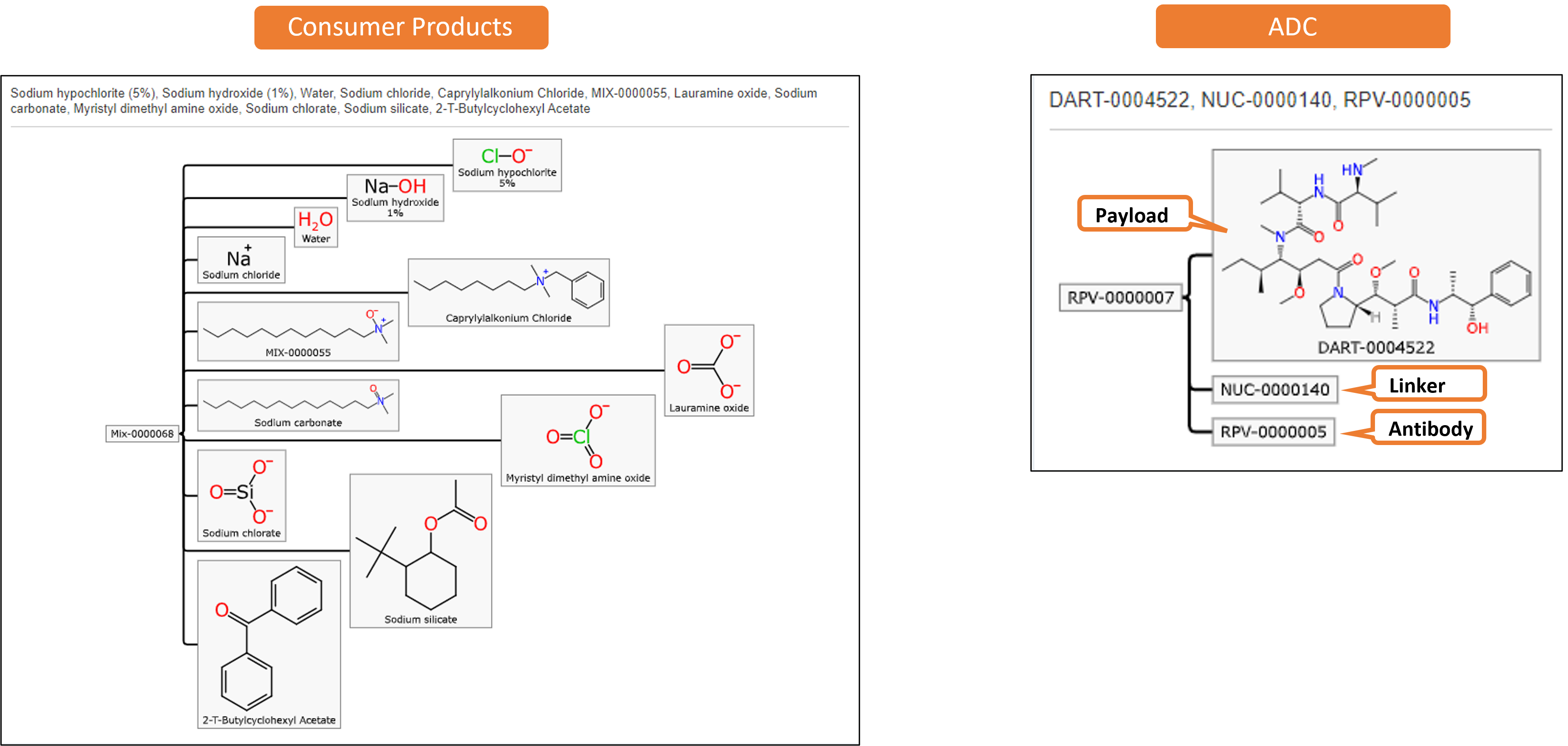 ELN for CROs and free text:
Due to it's flexible and searchable format and the fact that multiple users with the proper permissions can edit an ELN entry, the CDD Vault ELN can also be used for:
Taking notes

Storing old emails

Collaborating on presentations and papers

Reference management
Give CROs access to your ELN so that they can:
Record small molecule synthesis with the Stoichiometry Table and register new molecules from the ELN into the Activity and Registration system

Run In Vitro and In Vivo experiments on your compounds can upload and import their data from the ELN into the Activity and Registration system
Key ELN topics that are referenced in this article: